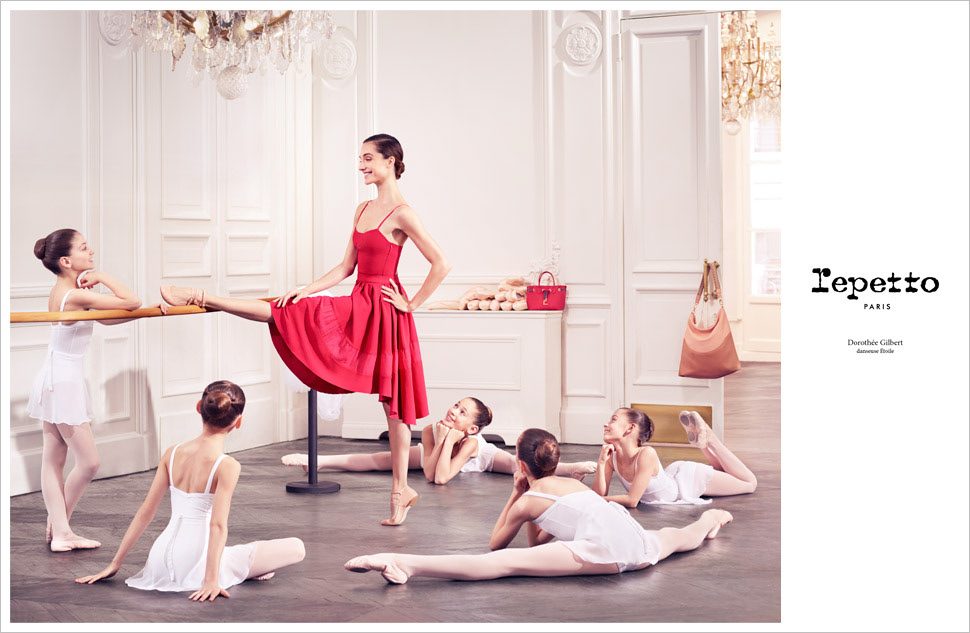 Repetto is a luxury french fashion house with a delicate design that comes up with the elegance of a ballerina. In 1947, Repetto started as a toeshoes brand for professional dancers introduced the first fashion flats based on their skills and elegance of a ballerina. With the inspiration of the delicacy of a ballet, it triggers the emotions of women using the colors that make pleasure when look at it. 
 Repetto is also launching products for all women who are even not a professional ballerina, making the brand more popular. Repetto's products convey the world of ballet's values along with exceptional and exclusive artisan know-how.

Repetto has signature product families (Cendrillon ballerinas, Zizi, and Micheal) and has a lot of color and material variation in each product families.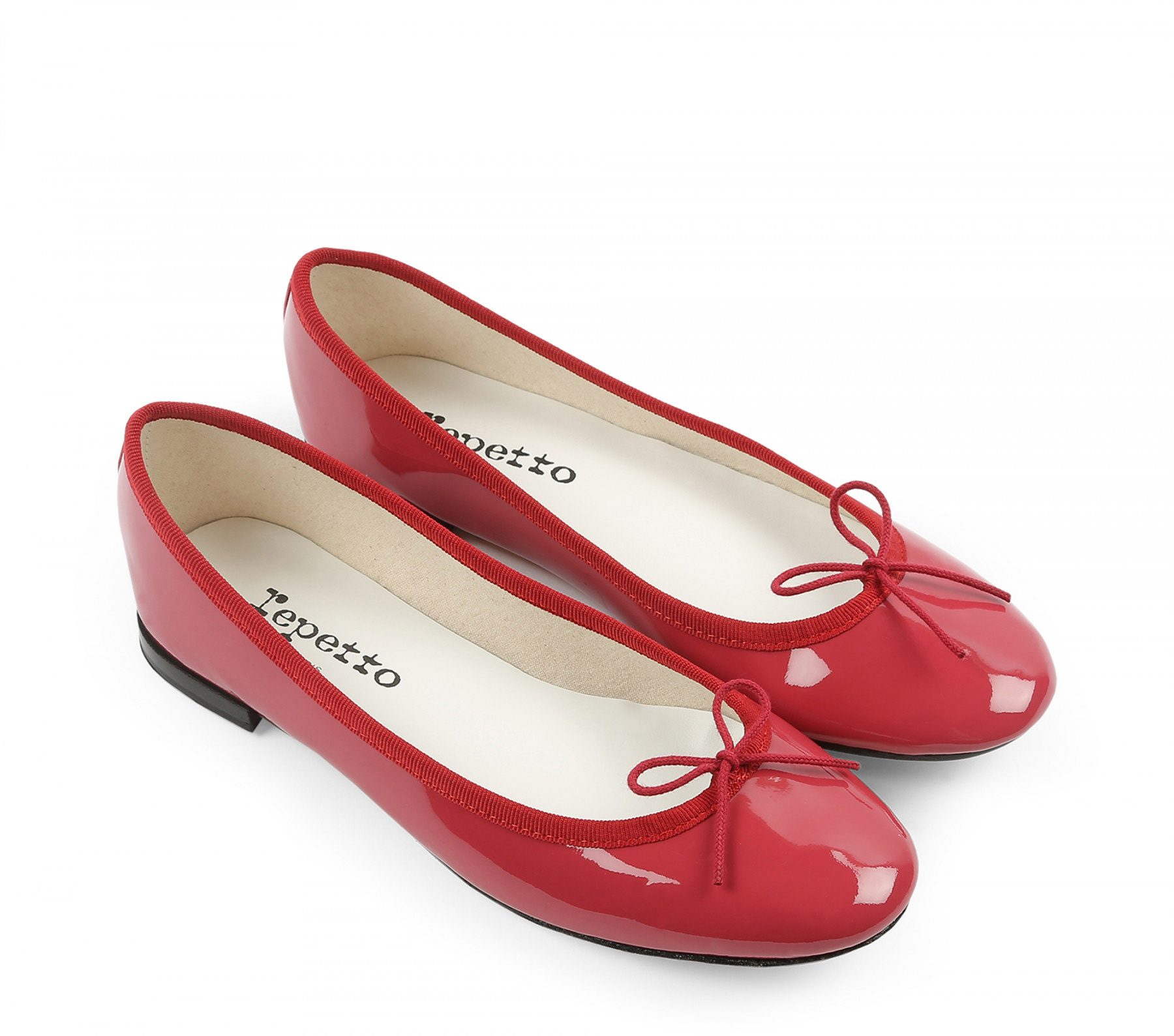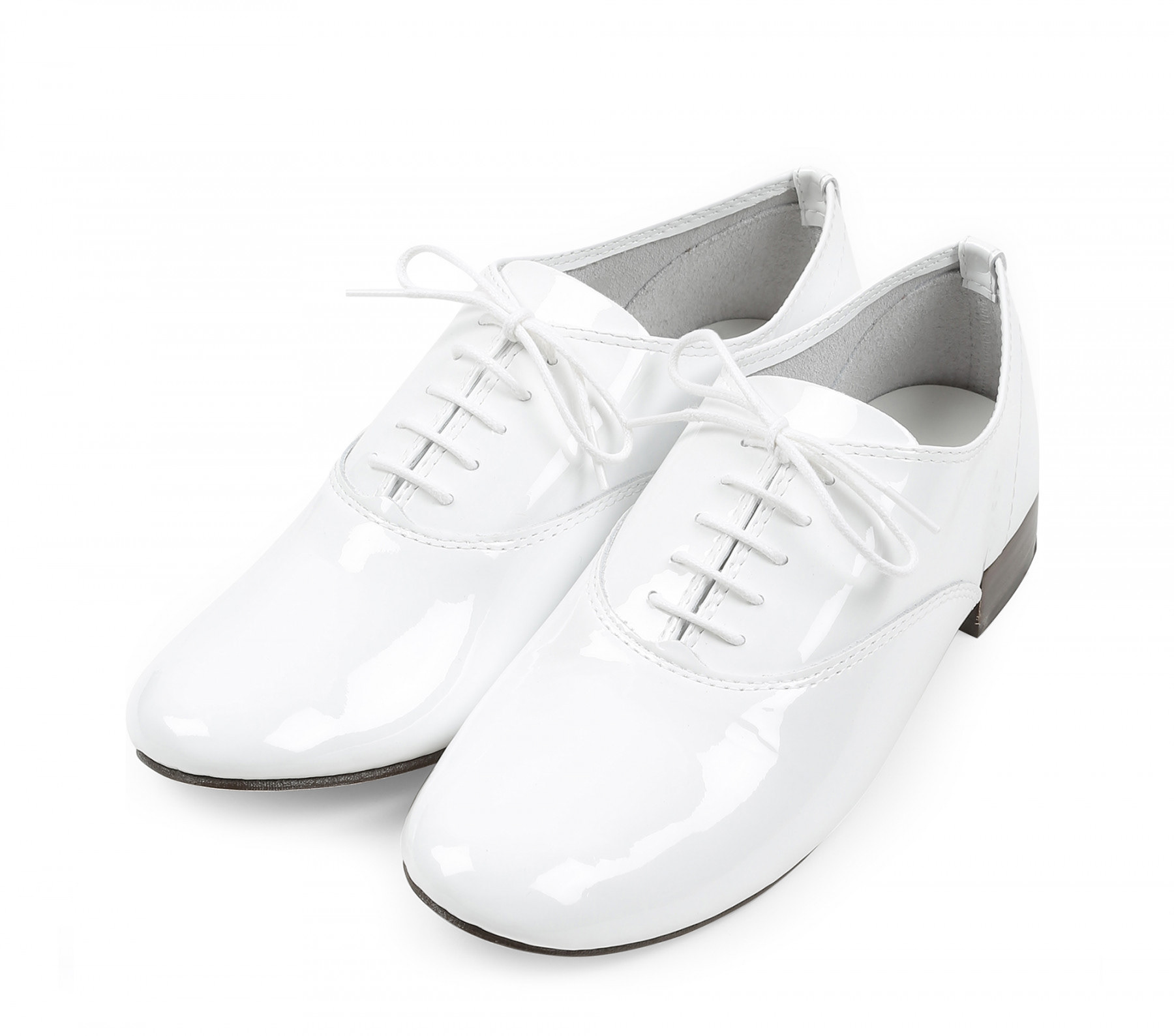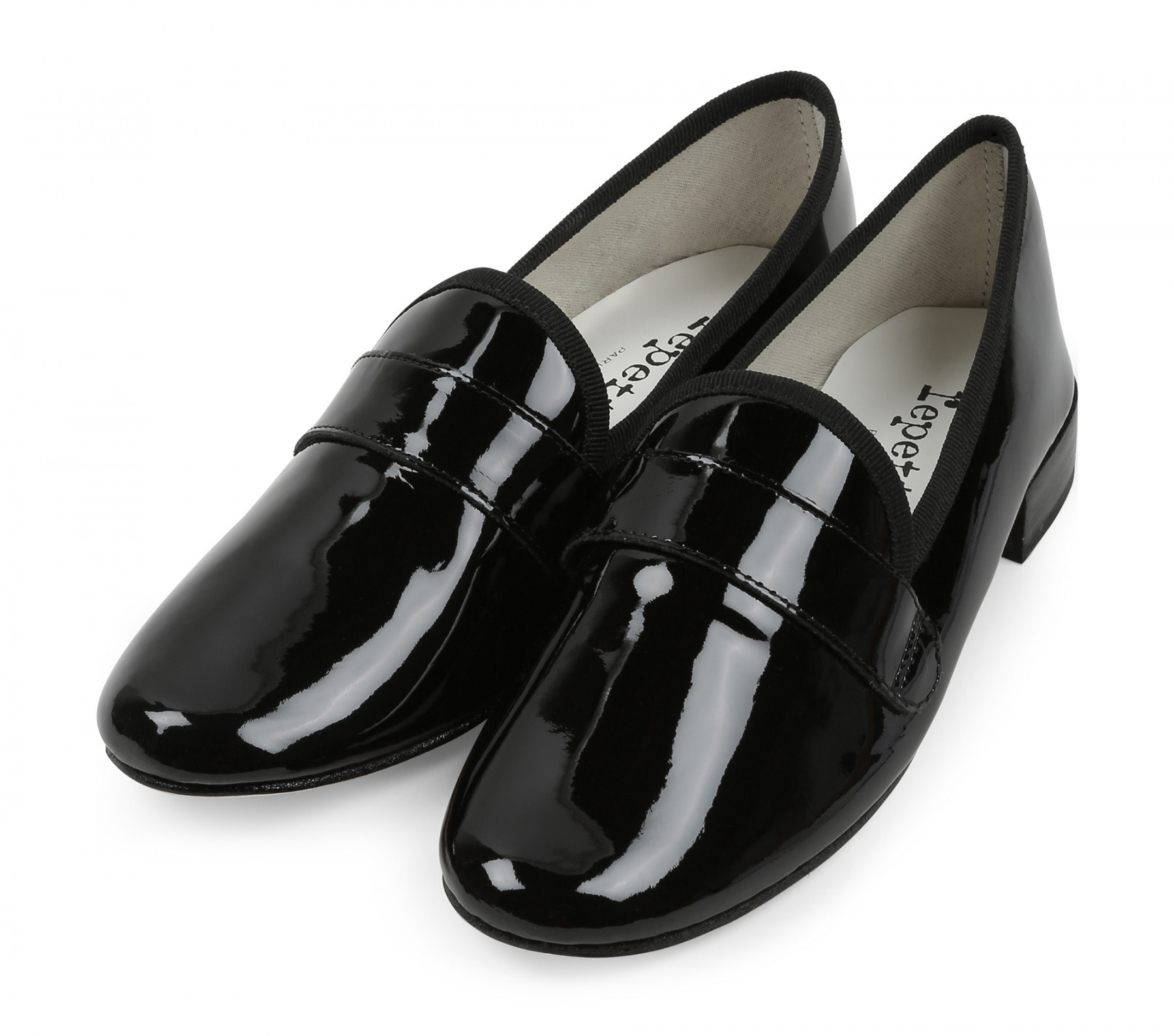 Maison's Iconic Detail of Products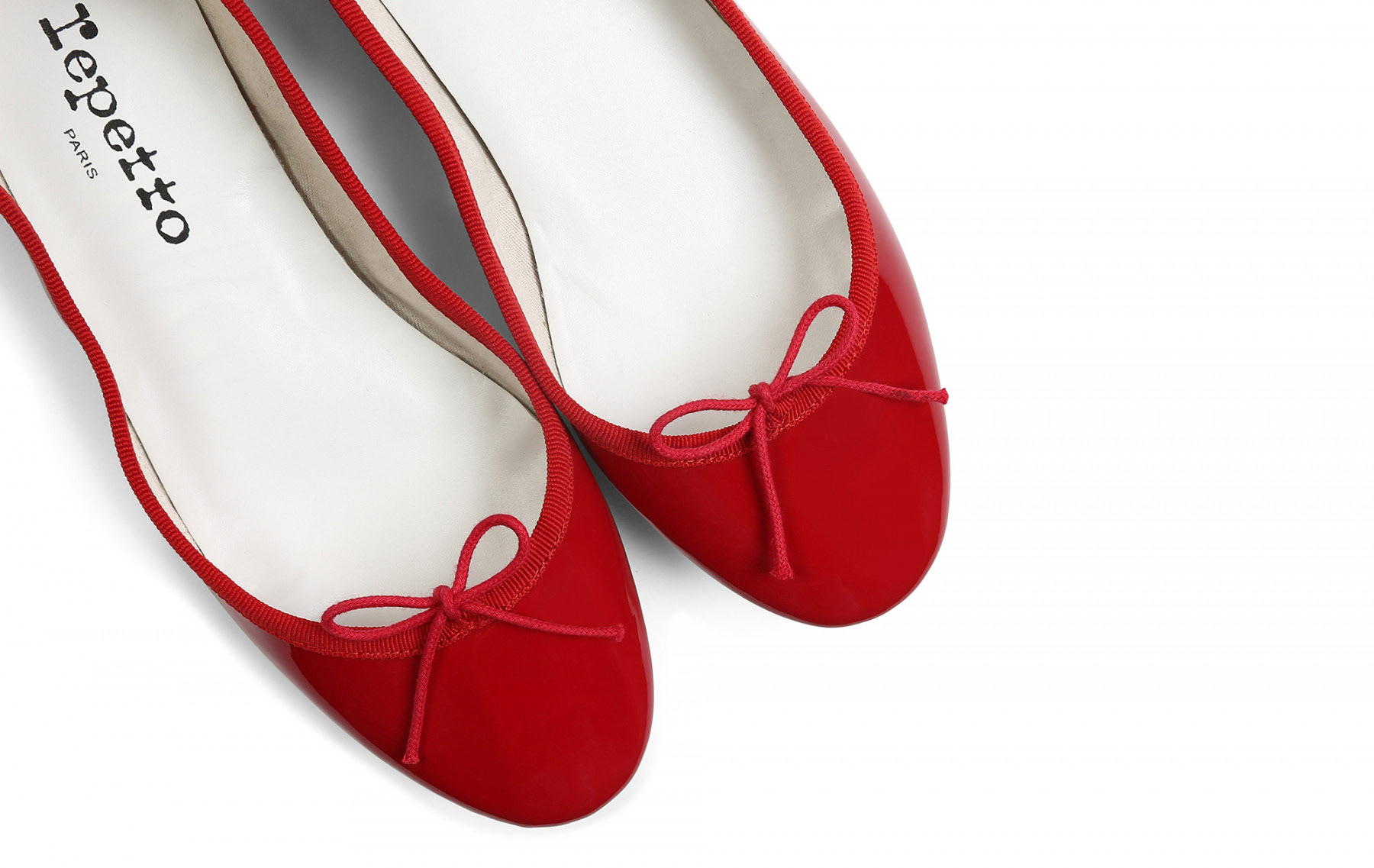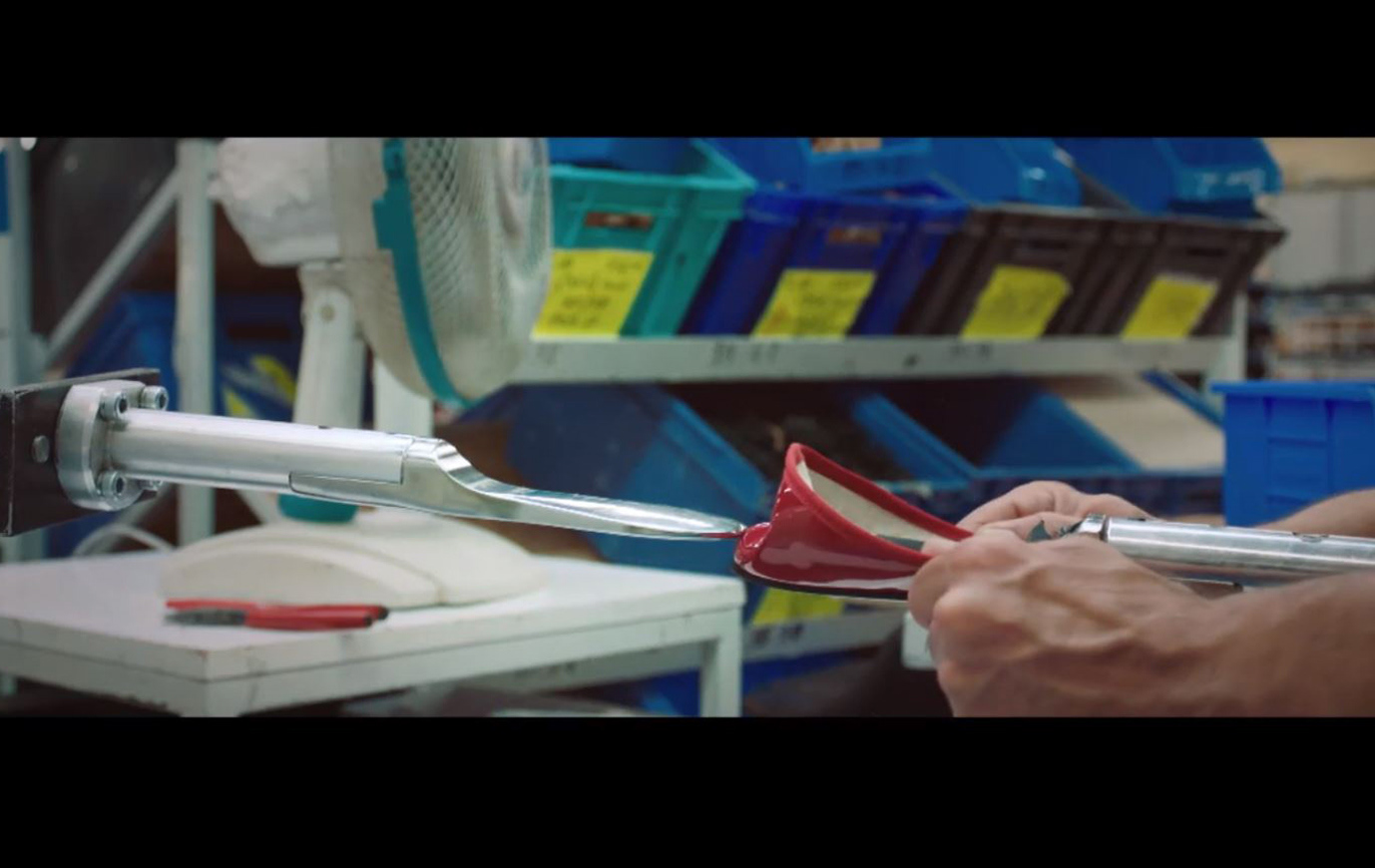 2/ Analysis of current visual merchandising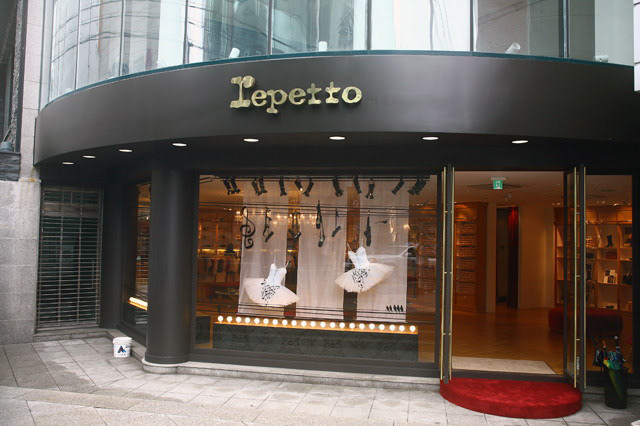 Repetto's first flagship store of South Korea was opened in Cheongdam-dong, Seoul, in 2010. It was about 130 square meters with one floor. 
Our team visited this store to figure out how the displays of the product are done and what kind of store identity Repetto has. As this store closed up during this project, we also analyzed what the failure factor of the store was.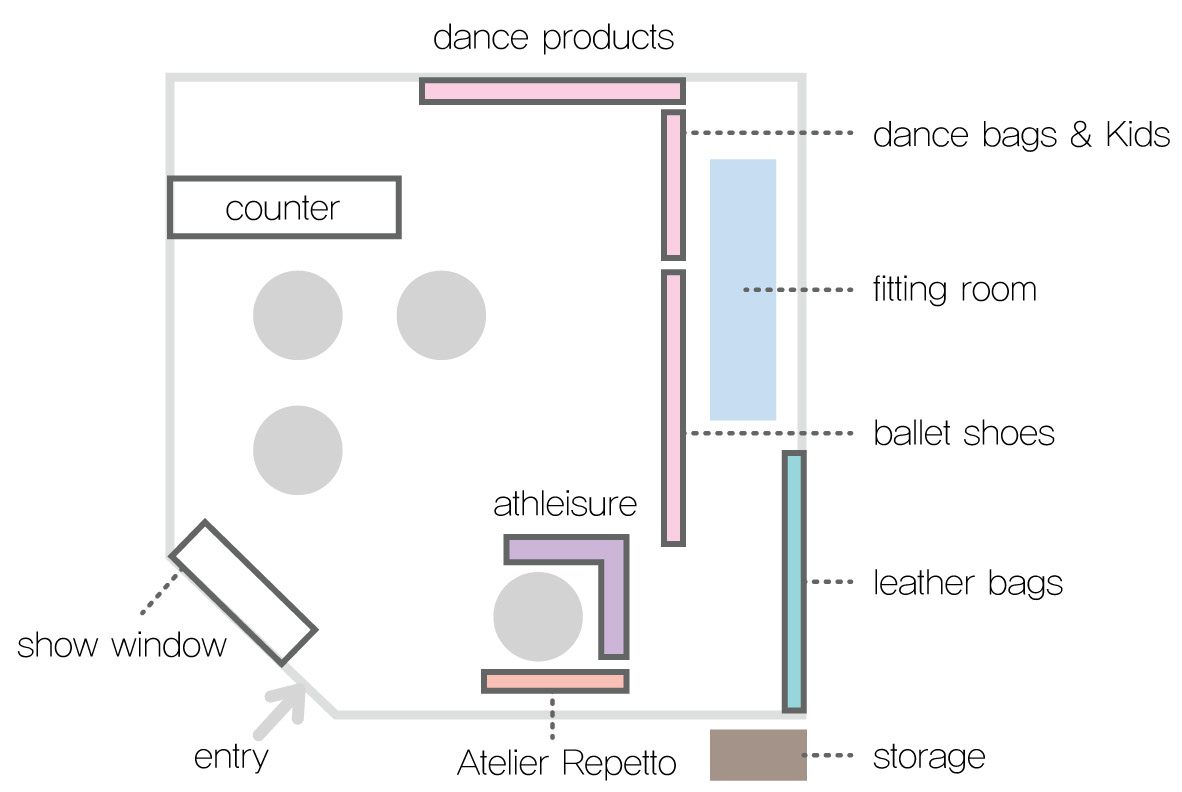 The items for dancers and general women were placed separately.
The price level is Michael > Zizi > Cendrillon. Therefore, relatively low-priced Cendrillon is located close at the entry of the store. Zizi, Micheal, and other premium lines with high prices were placed inside the store.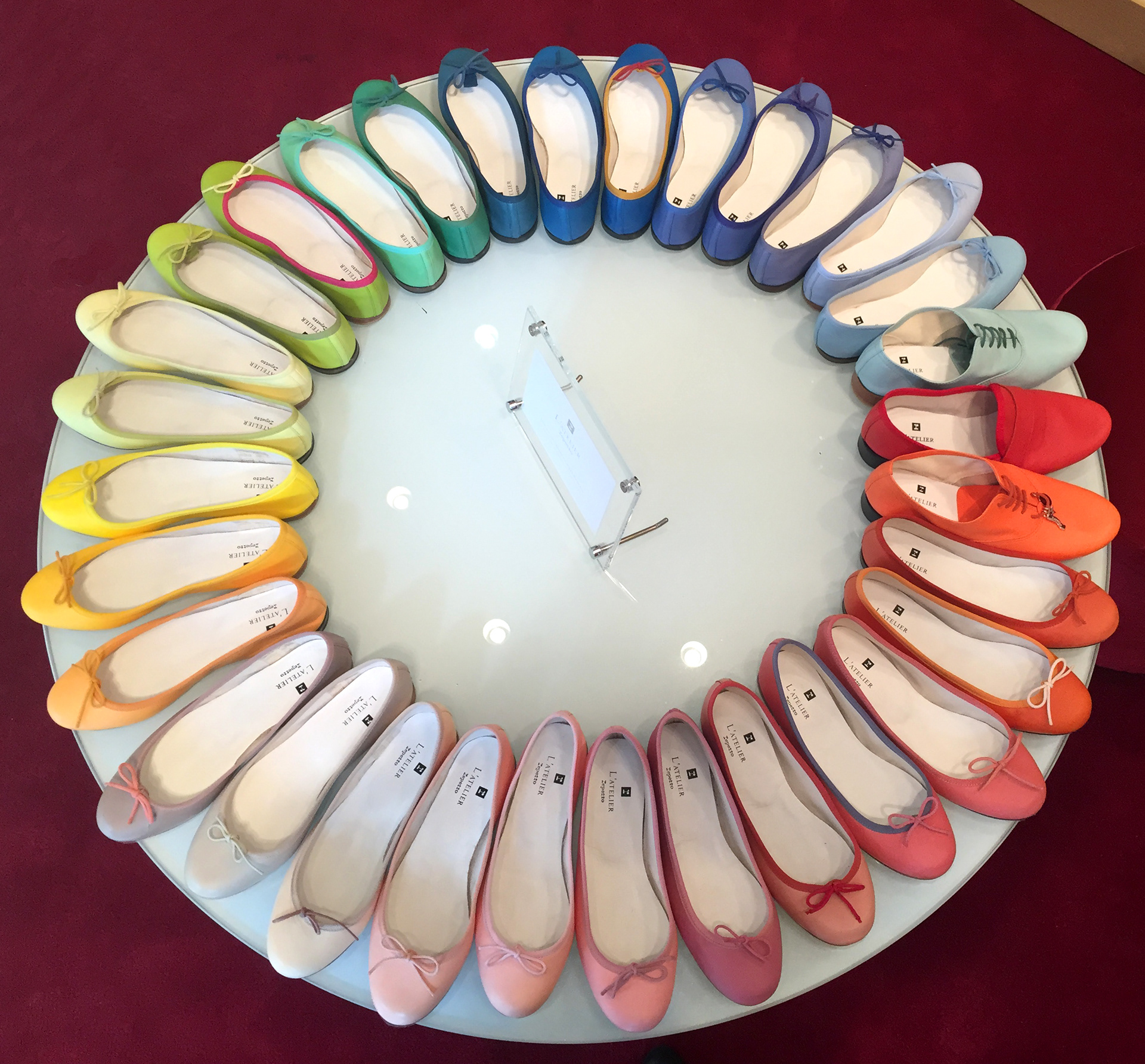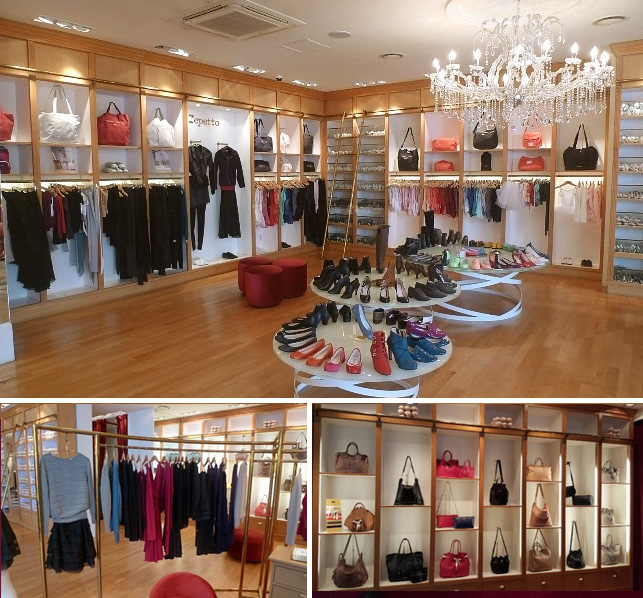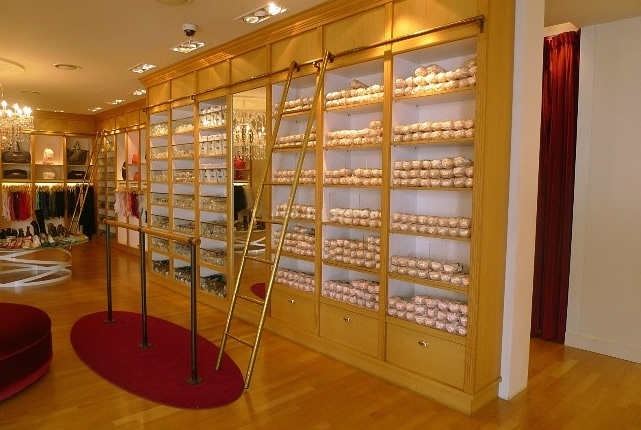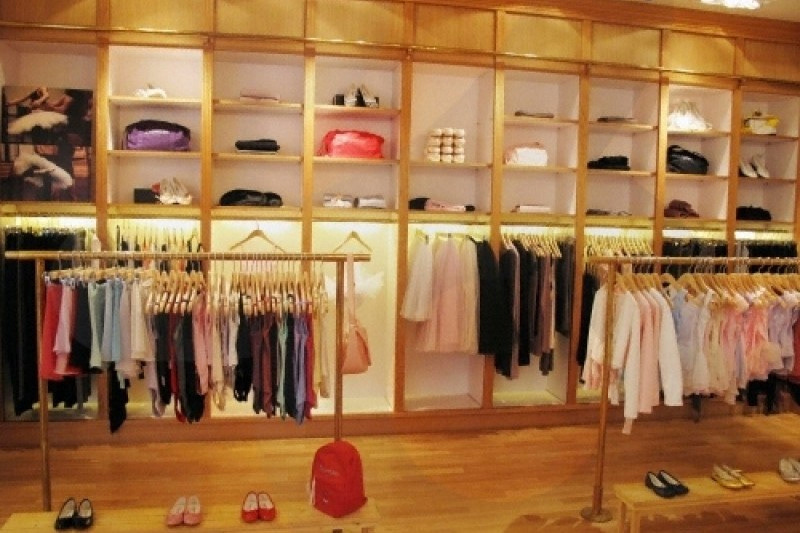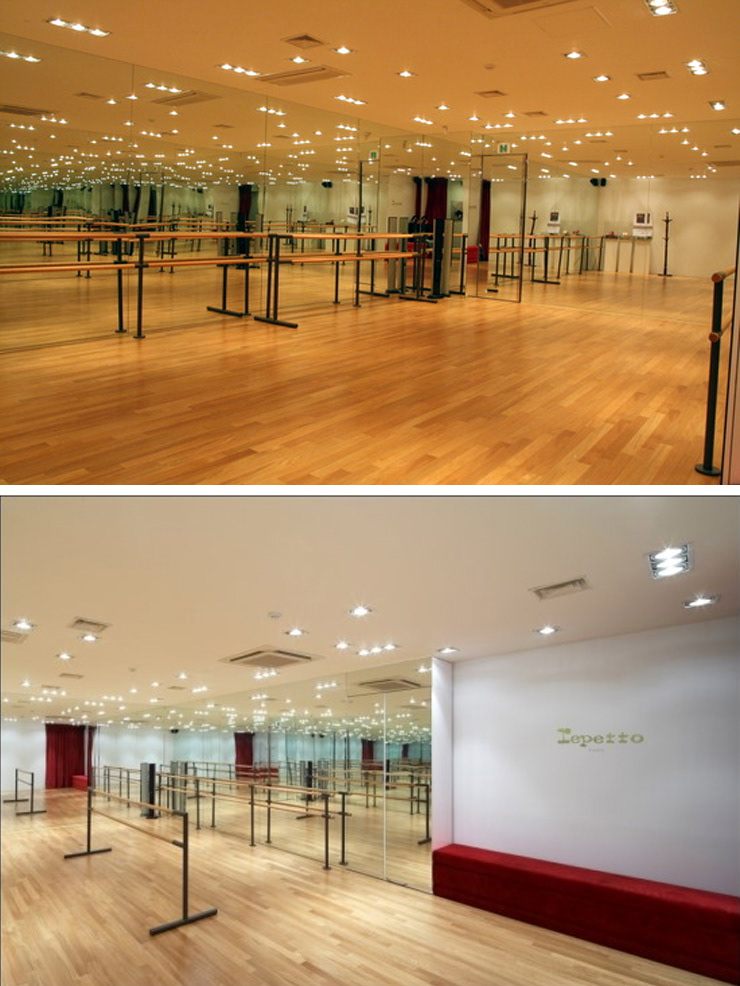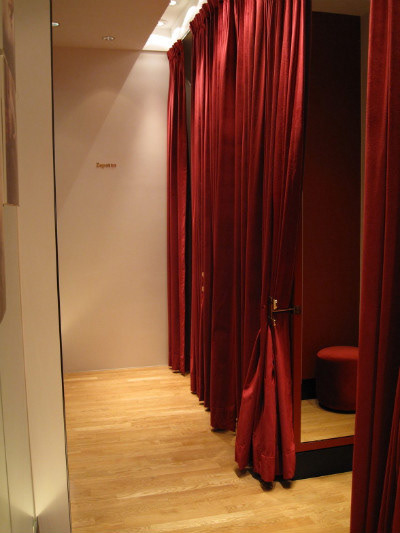 We thought that the interior was a bit too decorative and colorful.
The design of products of Repetto is simple and delicate. We thought the interior is too loud to make customers concentrate on products.
We thought the store identity color is different from brand identity color, which is a pale pink color. Thereby the mood of space was a bit heavy and too dramatic than brand identity Repetto has. 


Analysis result :
factors caused failure of Repetto Cheongdam flagship store

The store identity of Repetto reminds a scene of ballet performance or theater of ballet. As ballet is not a popular culture in South Korean, it was not easy for Korean customers to relate to this concept. Repetto is not a brand produce product only for ballet dancers. They produce a variety of fashion items based on the aesthetic of ballet. We thought the store needs to appeal brand as a fashion brand, not a professional ballet shop.
​​​​​​​
Communication of brand identity
Repetto is a brand that originated from the dancer's shoes but is currently trying to advance into various fashion areas. As a result, despite the fact that it has been expanded its business are into contemporary fashion, it was not well communicated to customers.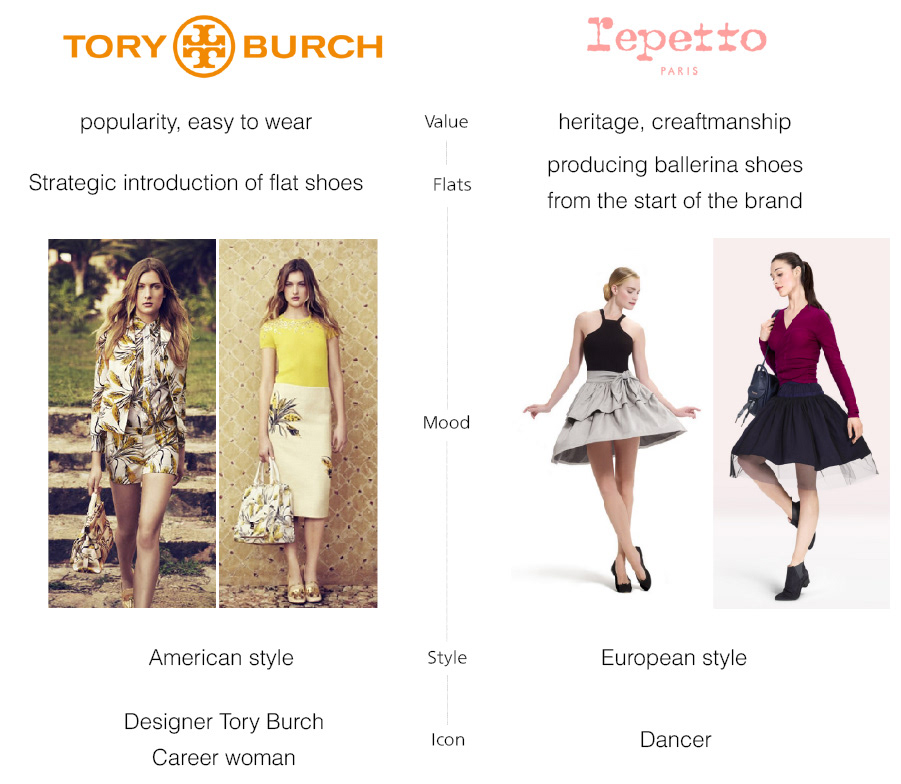 3/ Visual Merchandising Strategy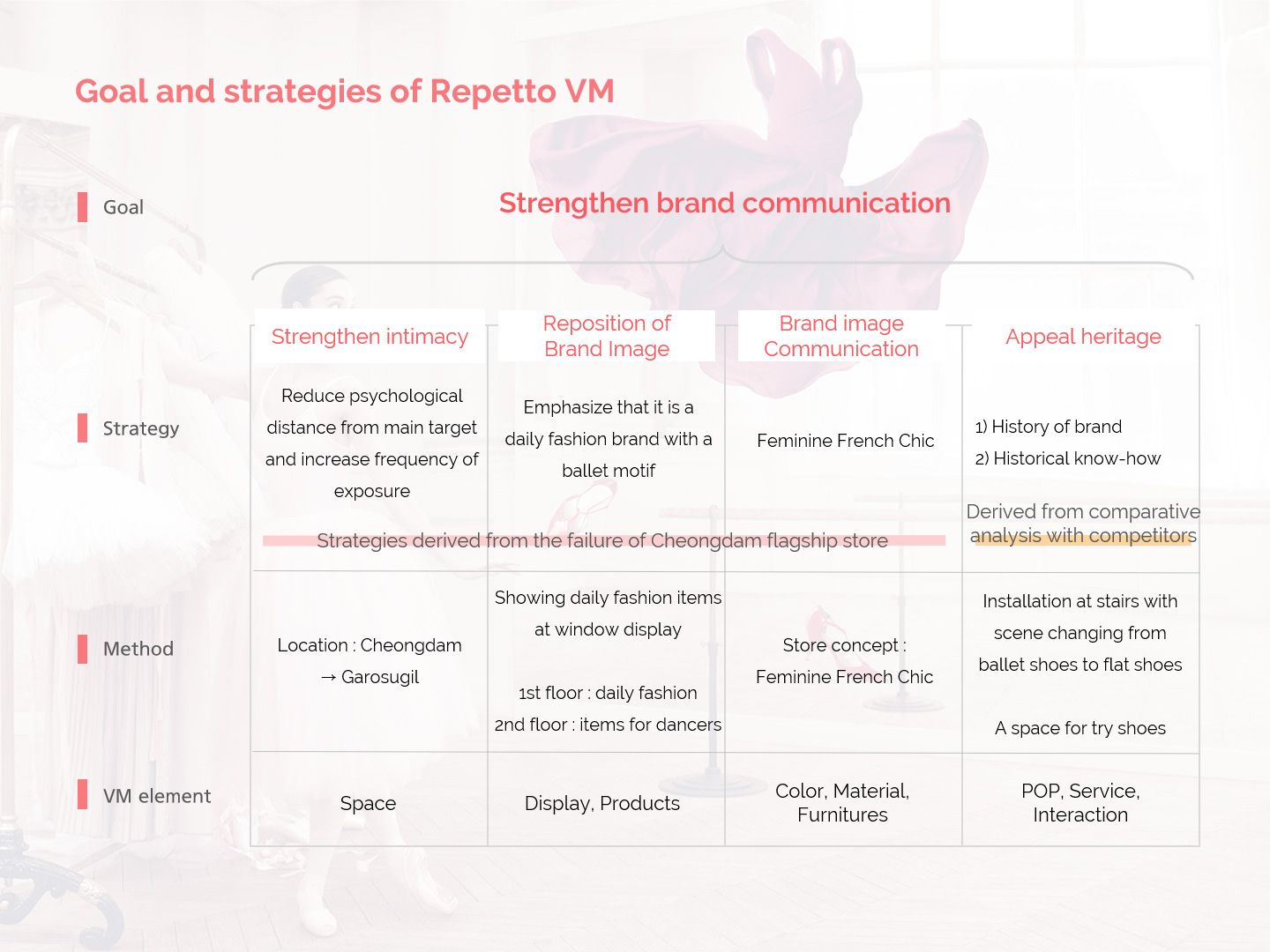 Strategy 2 : Reposition of brand image
Even though Repetto is a fashion brand, window display of ballet scenes and display of ballet shoes made customers misunderstand Repetto as a brand only for professional dancers. Therefore, we build the strategy to reposition the brand image of Repetto in customer mind by emphasizing the daily aspect of Repetto. 

Repetto believes the world is a stage. Improvise, perform and captivate every day in style : "Ce monde parle ballet".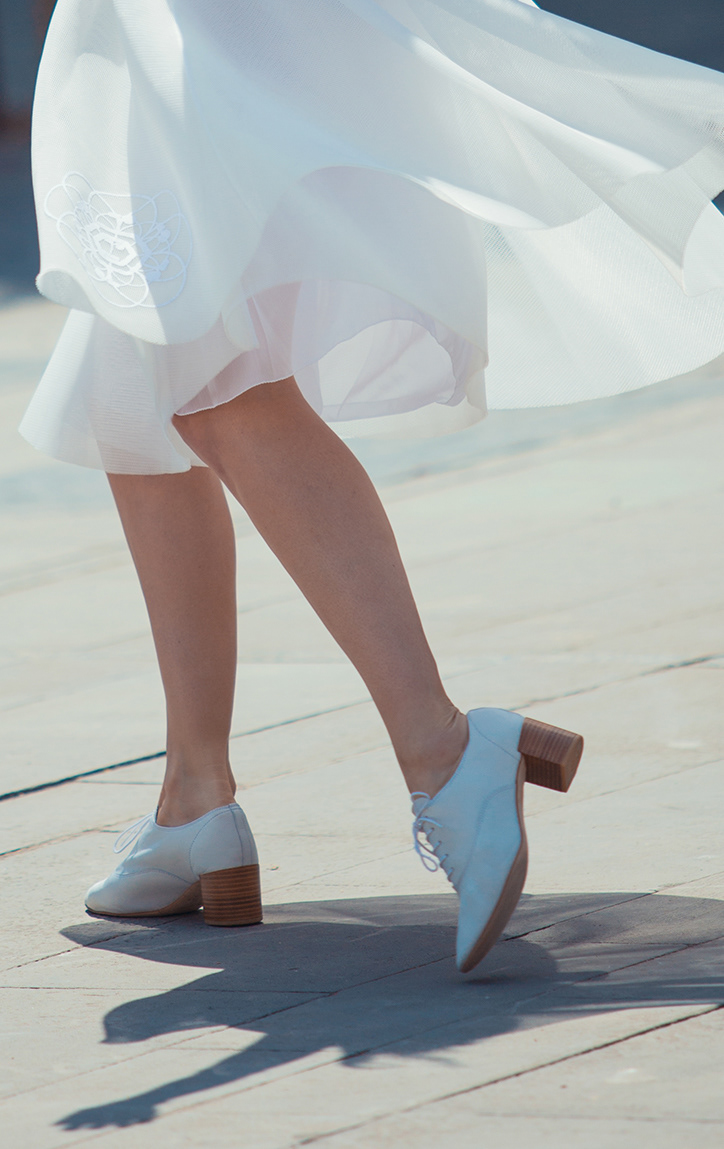 Strategy 3: Brand image communication
We designed a new store identity of Repetto, emphasizing the soft and sentimental mood.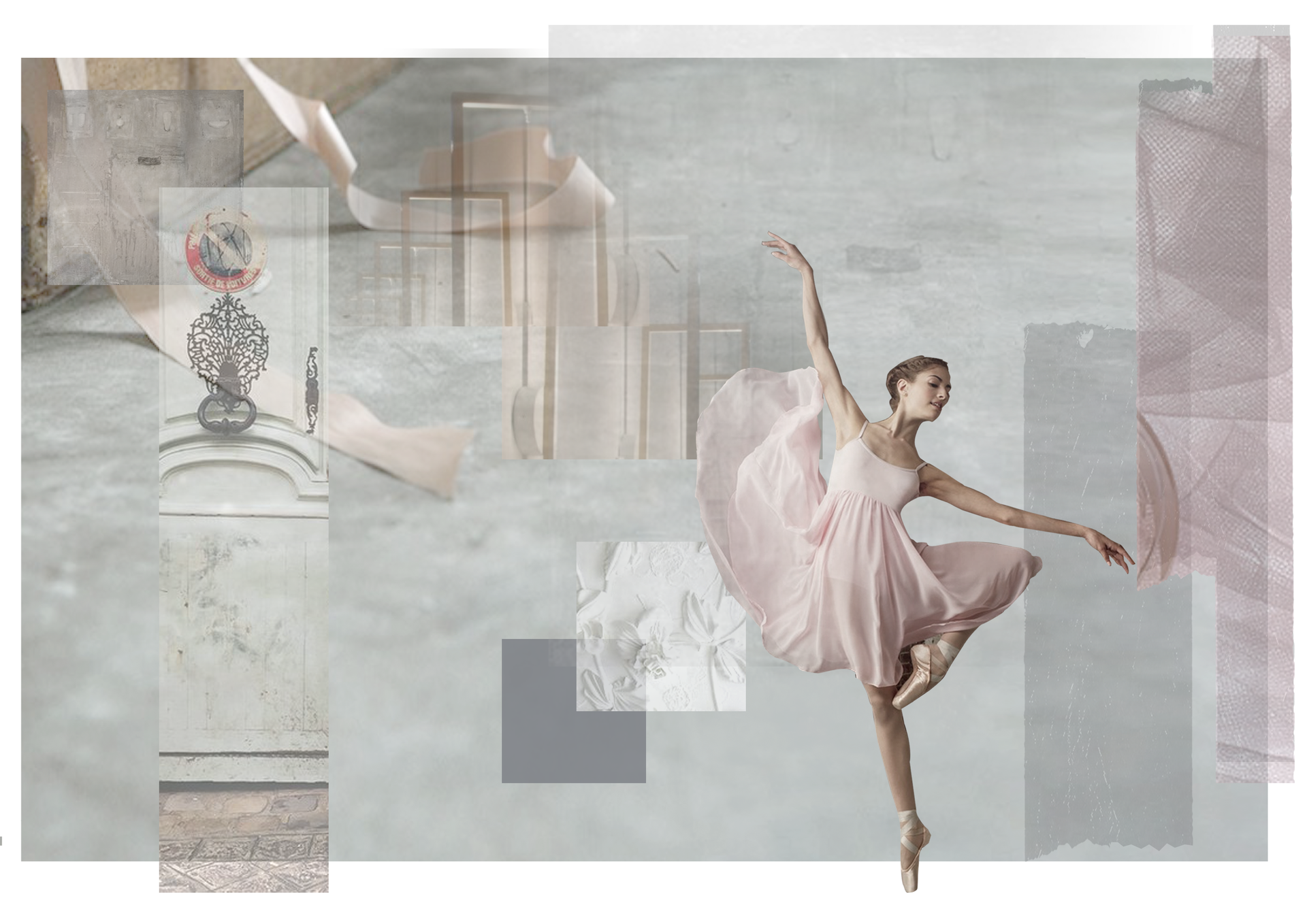 It is an old practice room, not an elegant ballet studio, where real dancers spend days behind the colorful stage. We suggest the "Feminine French Chic" style, incorporating Repetto's brand color(creamy pink) with gray and soft but rusty details.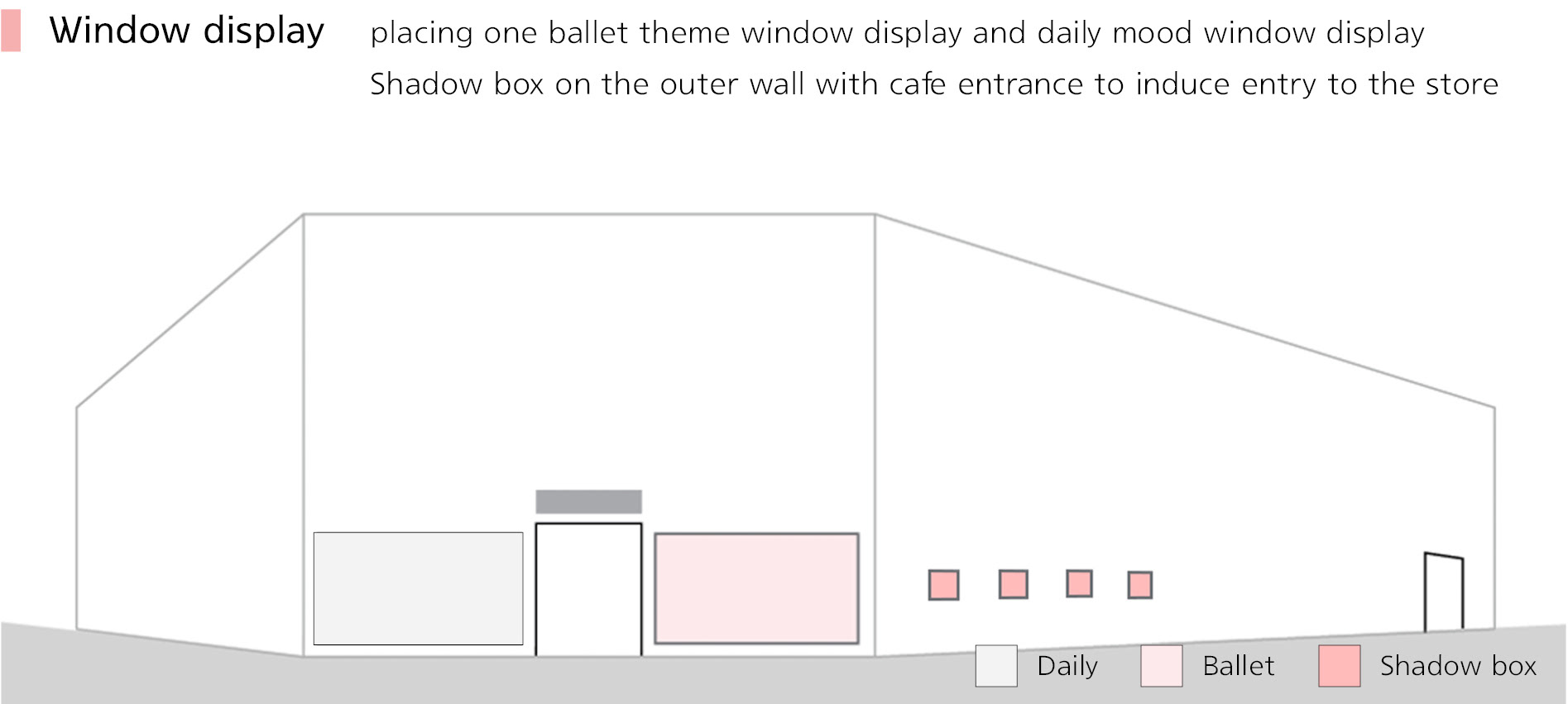 Shadow boxes : Repetto's iconic products 

Window display 1 : Daily mood window display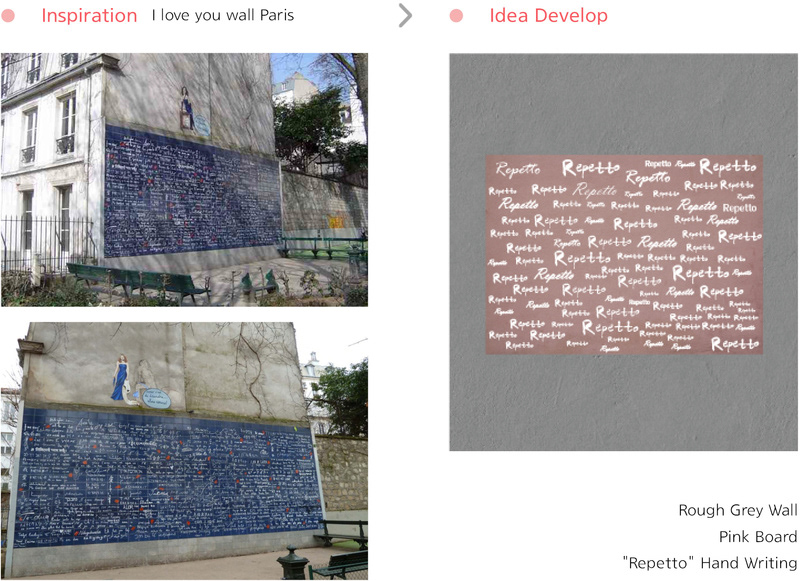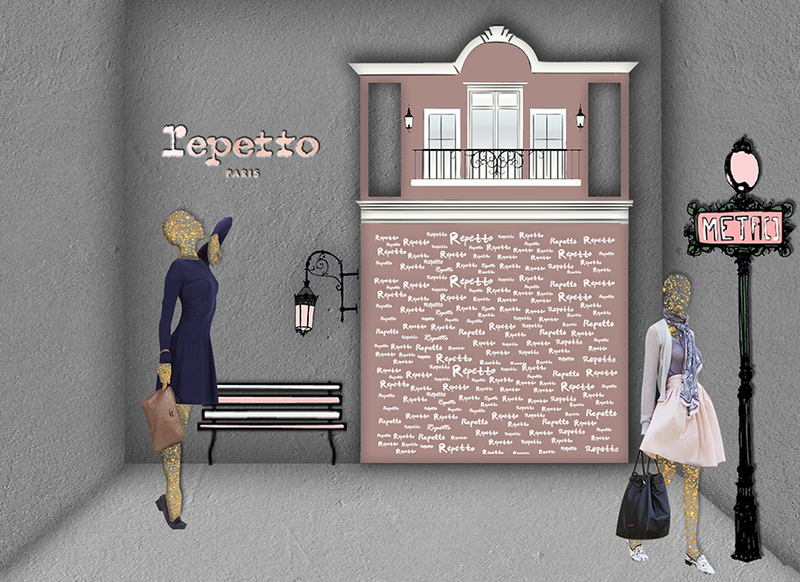 Window display 2 : Ballet theme window display

Interactive window display in which pendants turn sequentially by reacting the speed and direction of people passing by.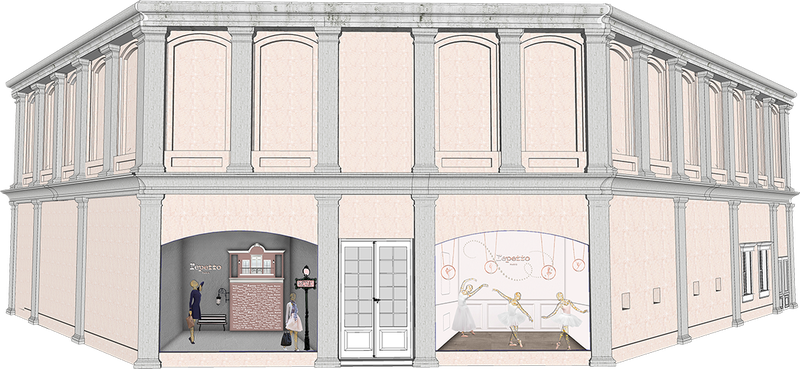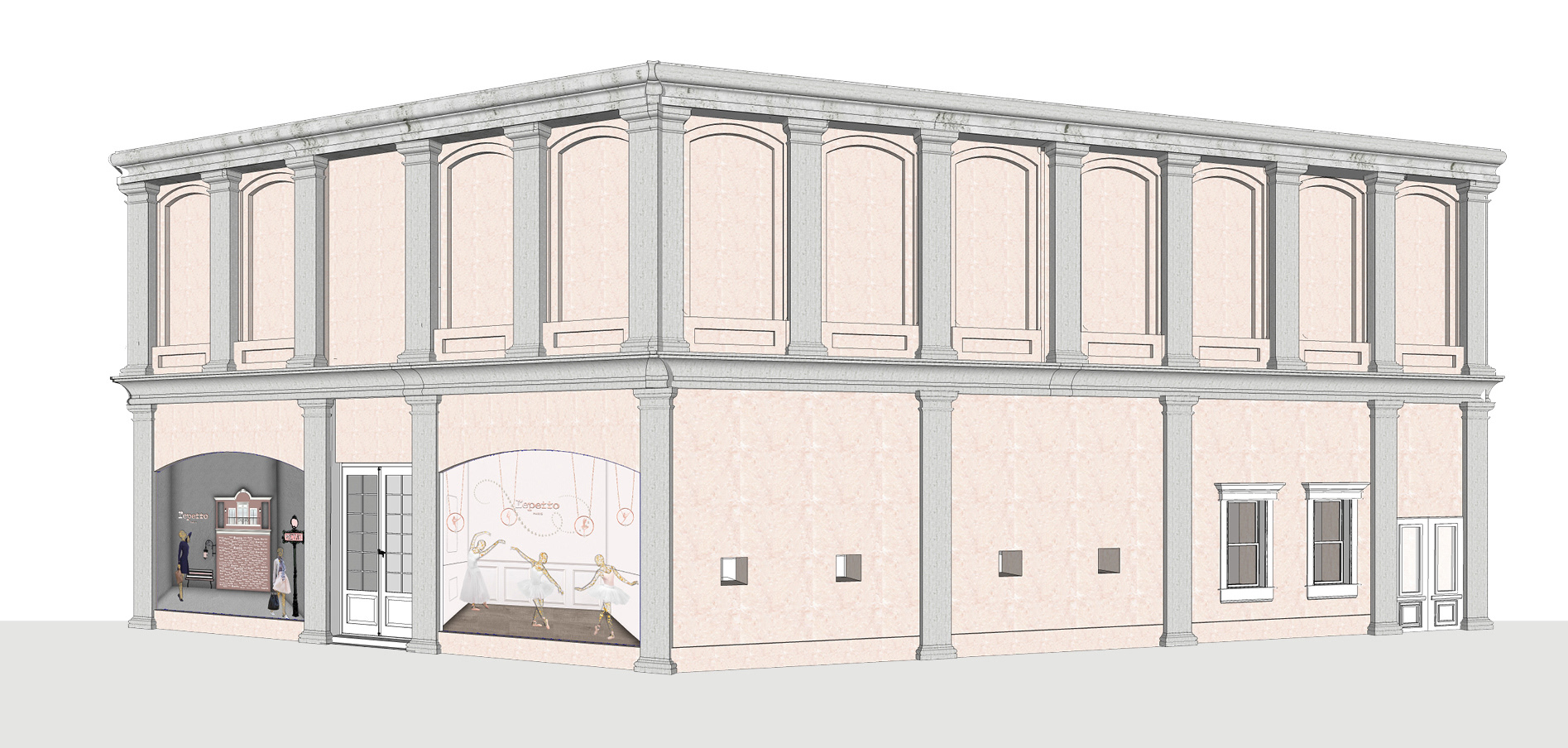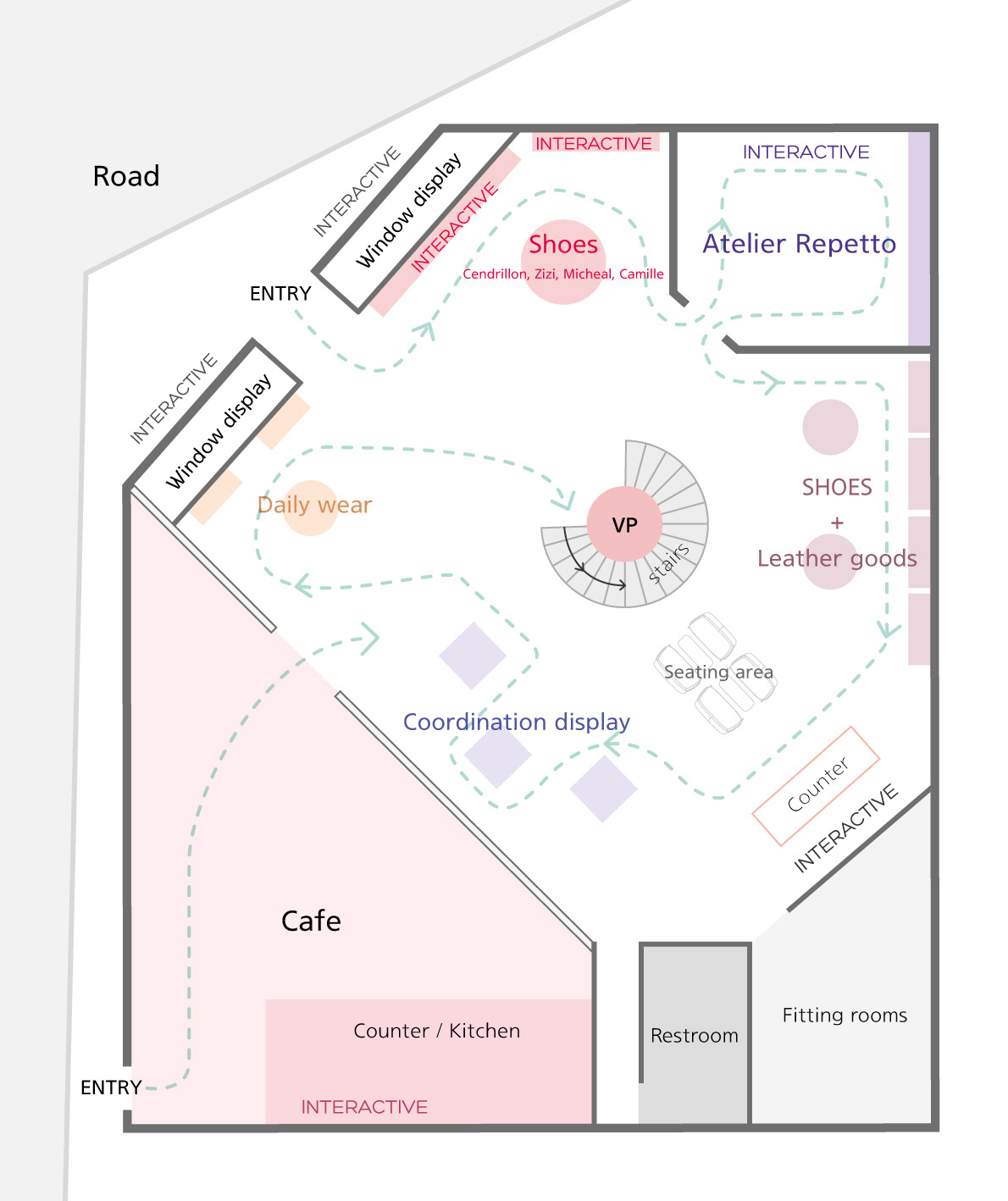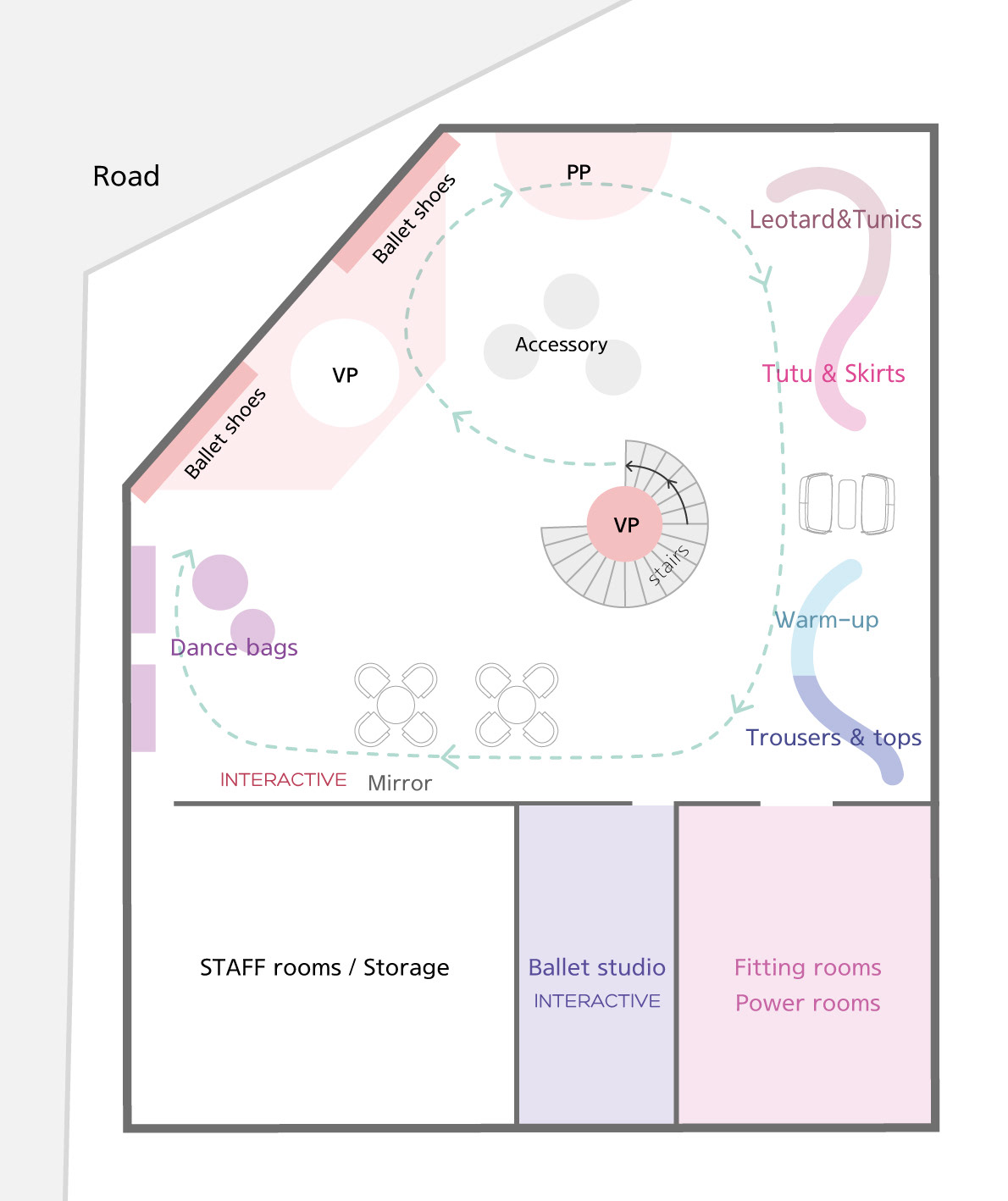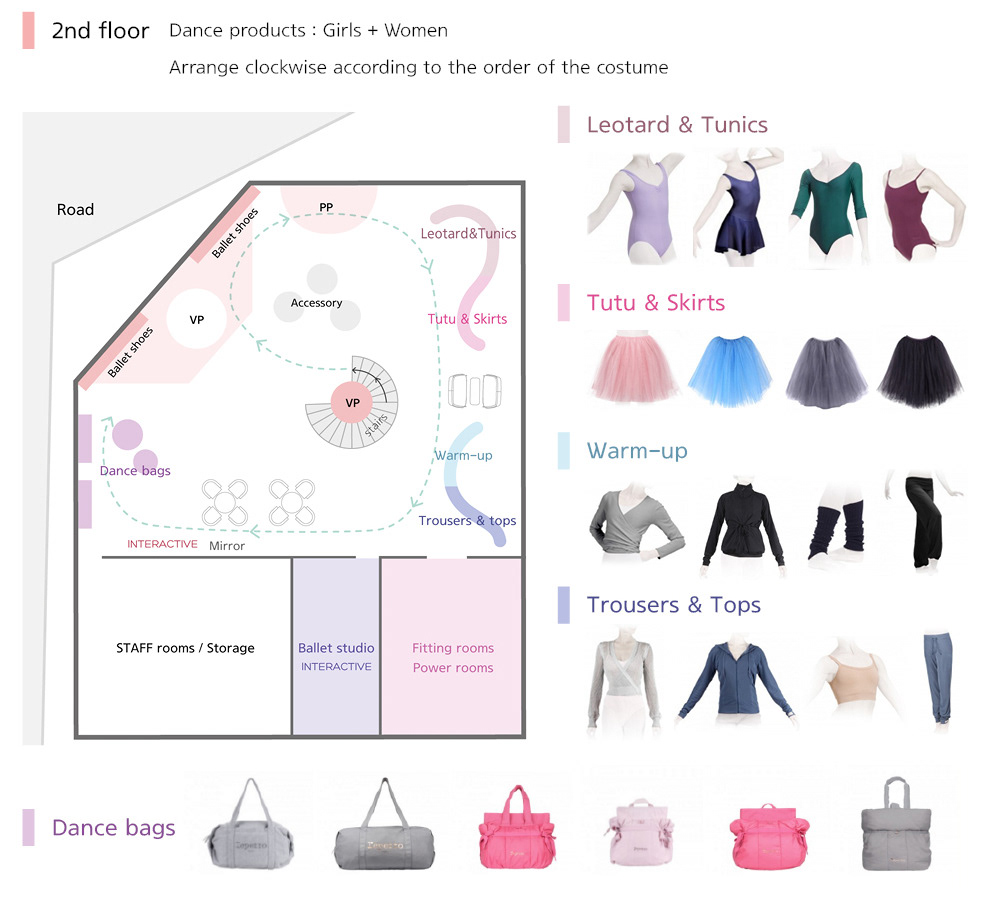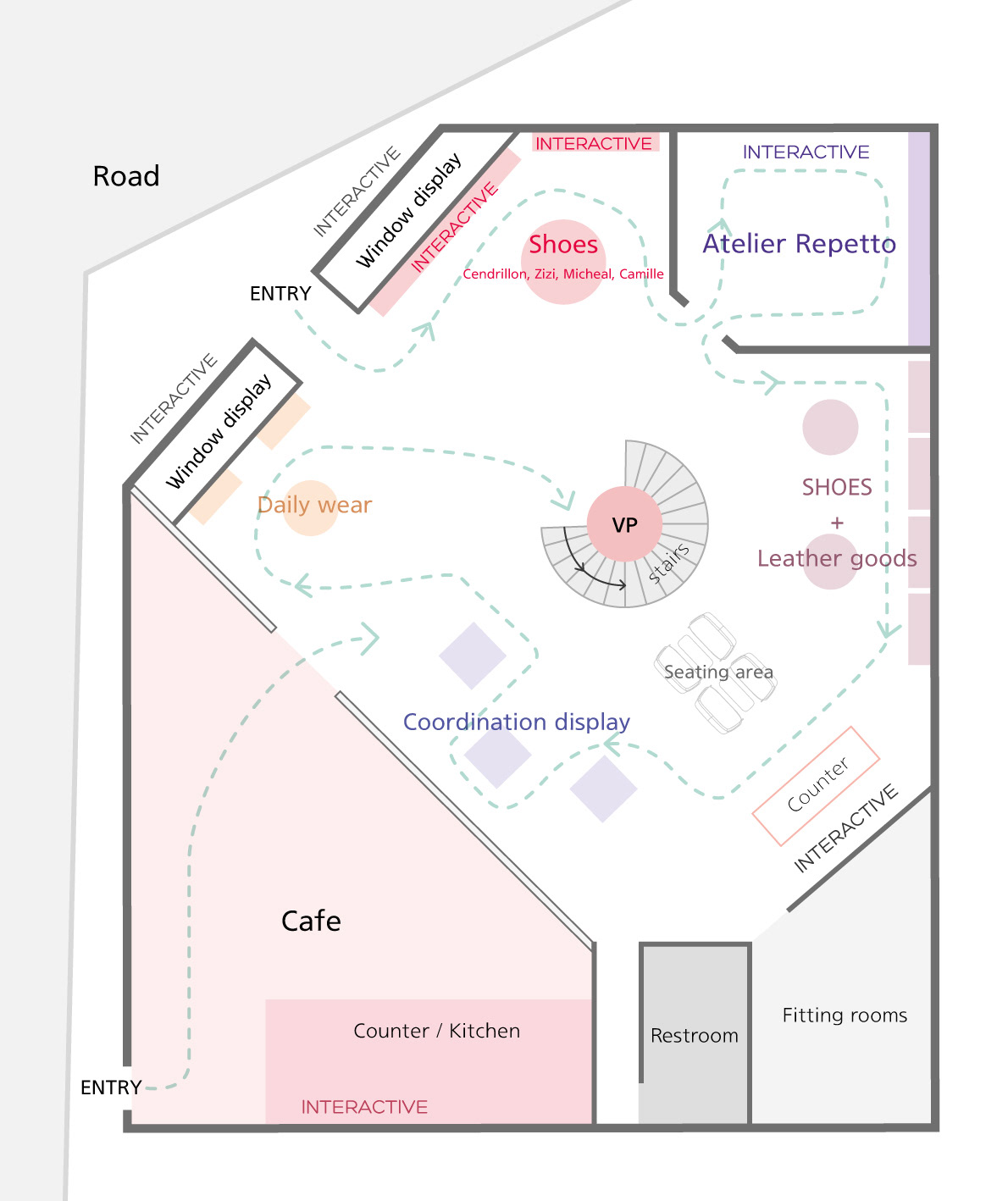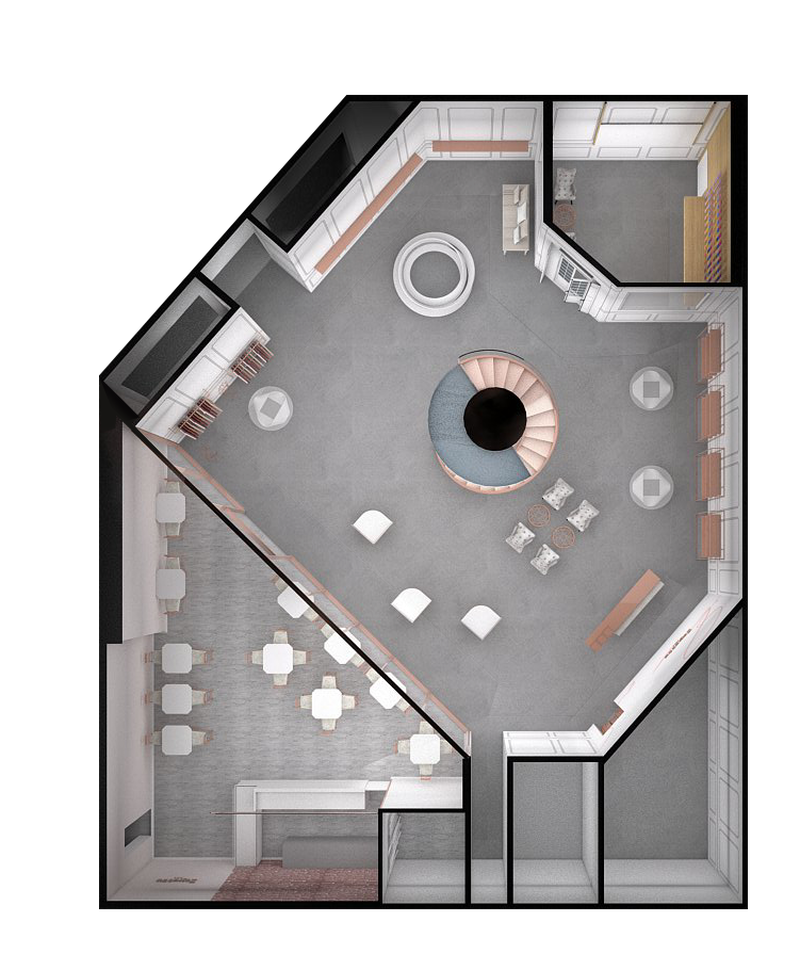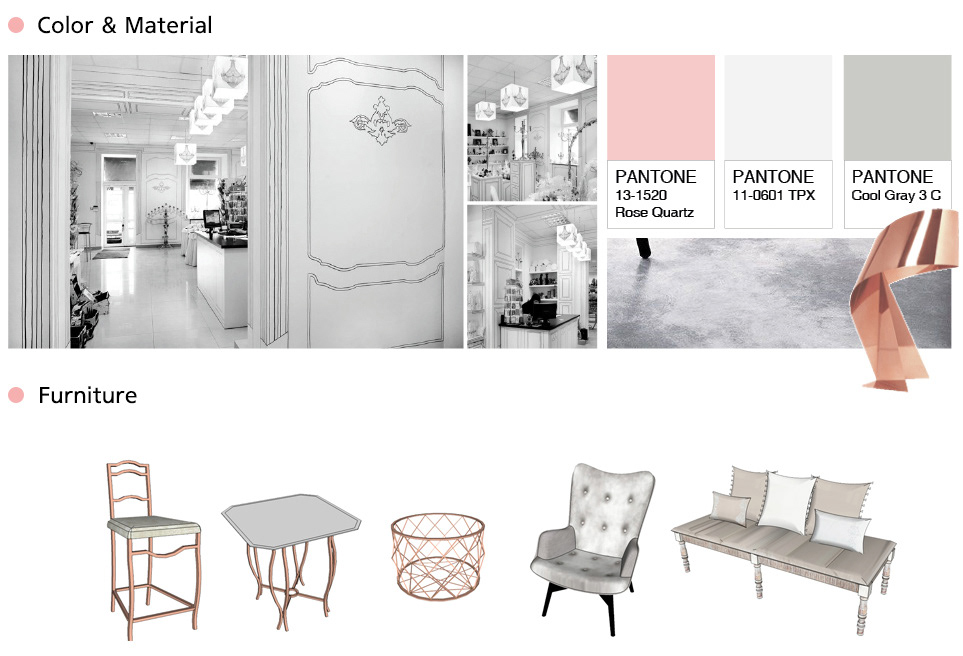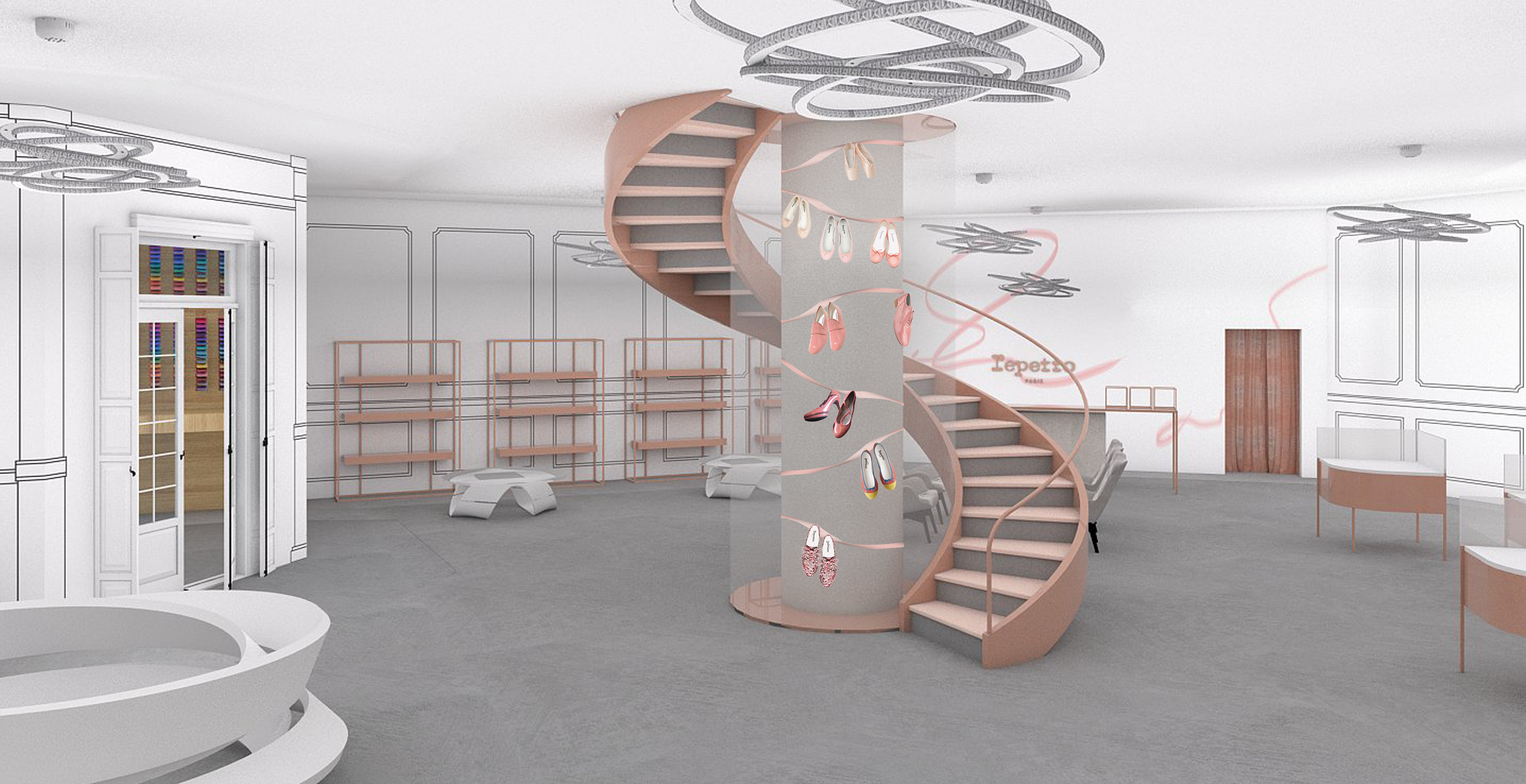 From traditional ballet shoes to modern design shoes
a vertical staircase that connects the first and second floors - daily fashion and ballet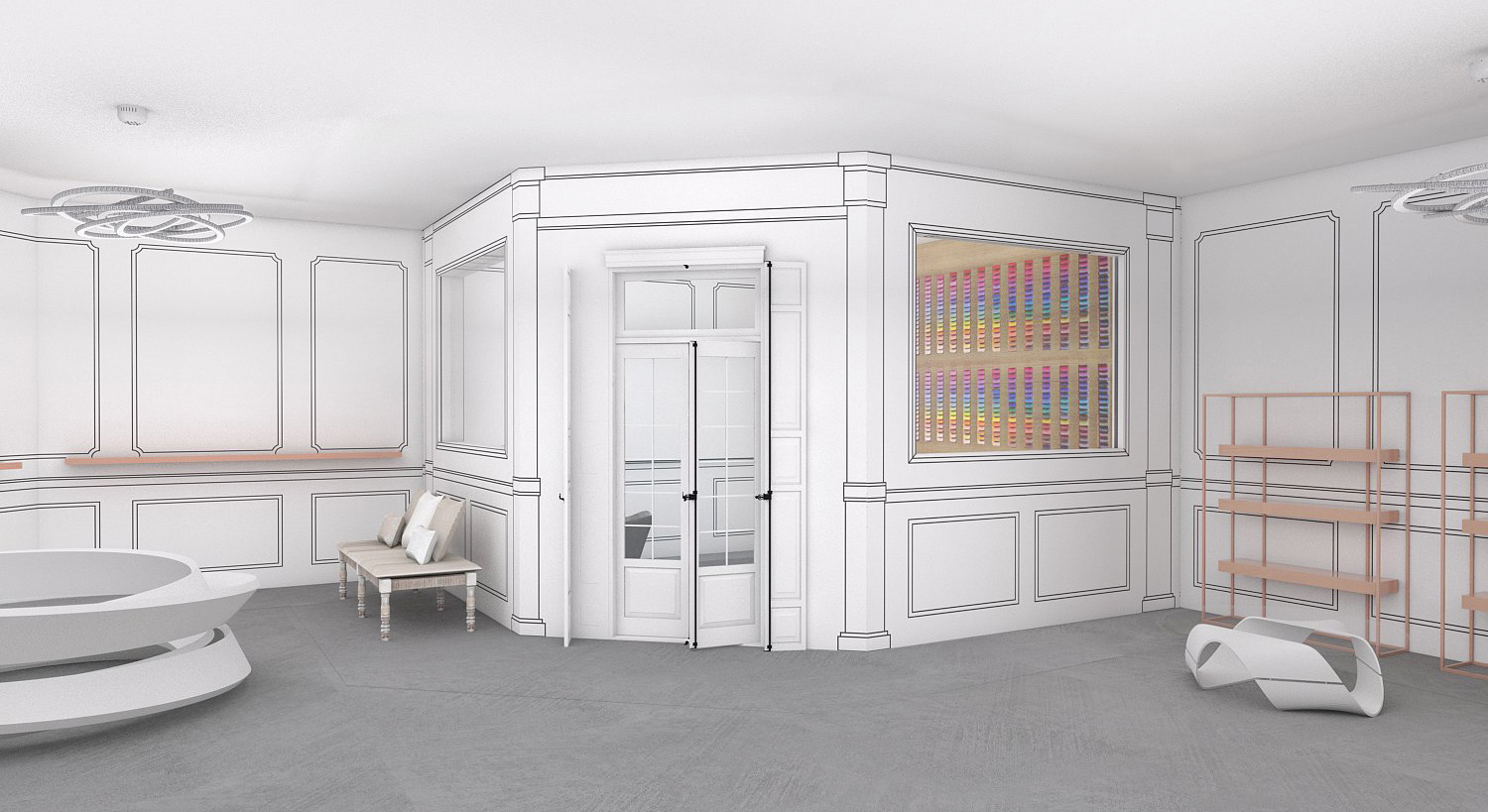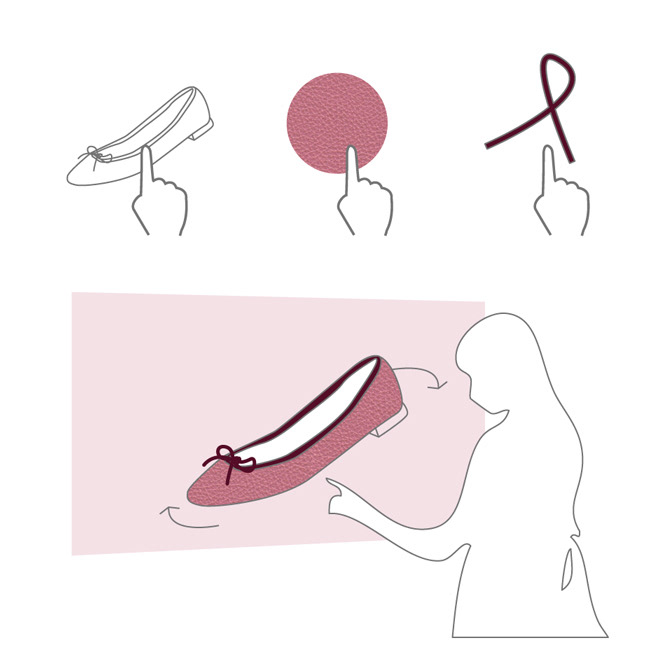 Atelier Repetto / design concept: shop in shop
Atelier Repetto is a service that customers can create personalized shoes by choosing a material and adding personal details.  
When the customer selects the leather, straps, and accessories they want, they can preview on a digital screen in Atelier Repetto.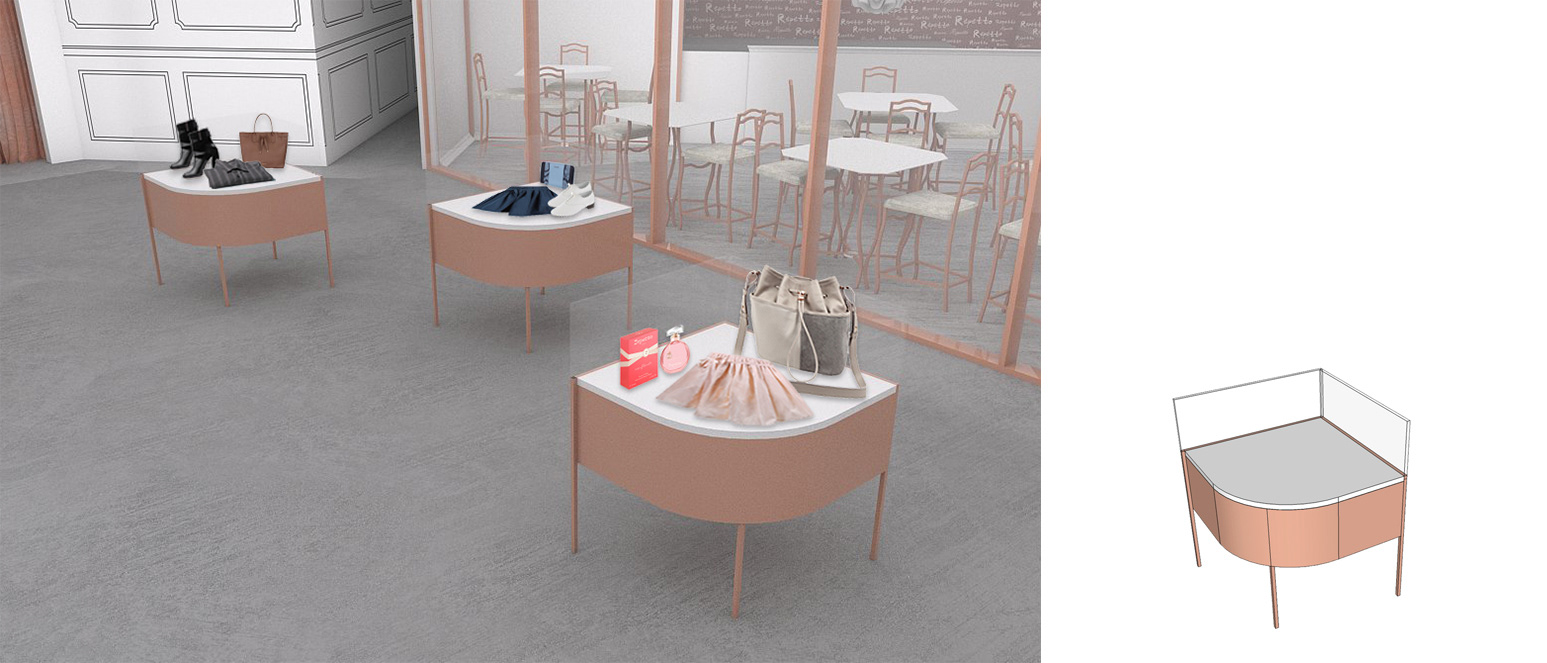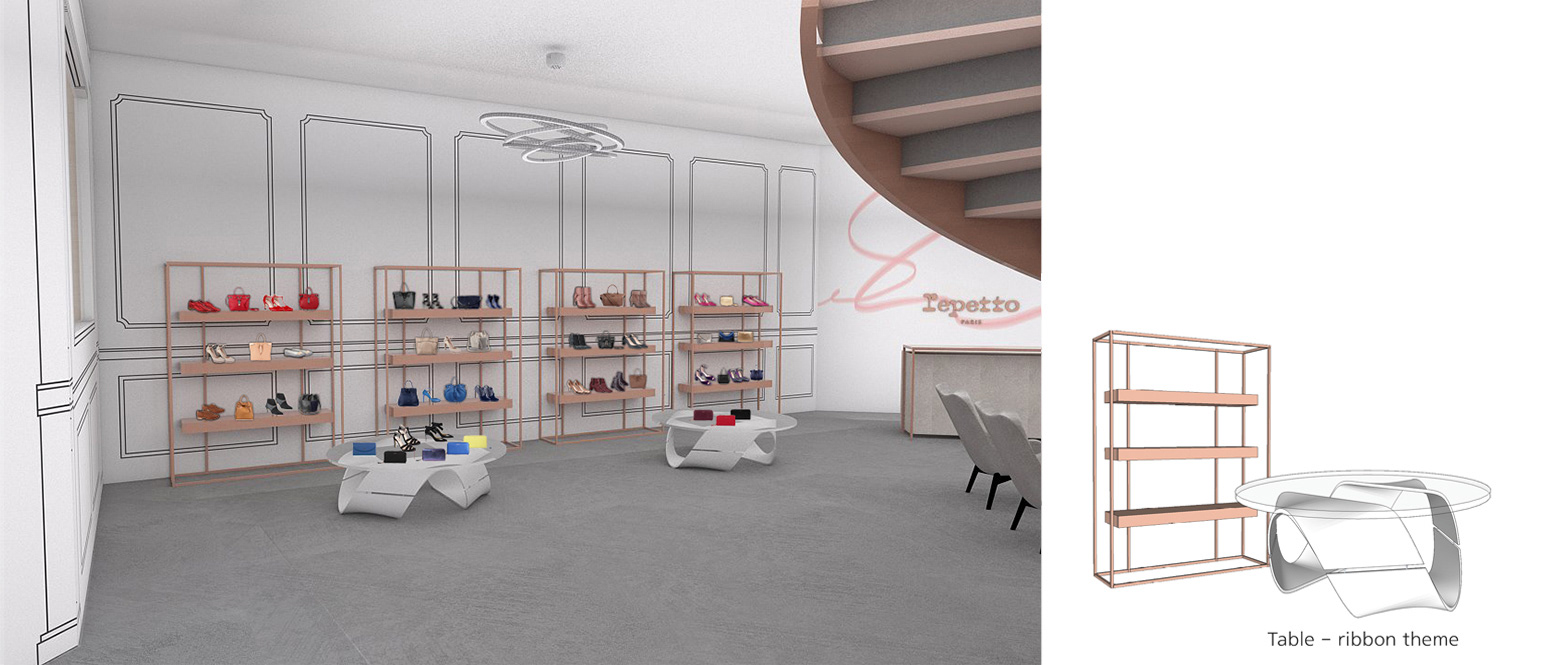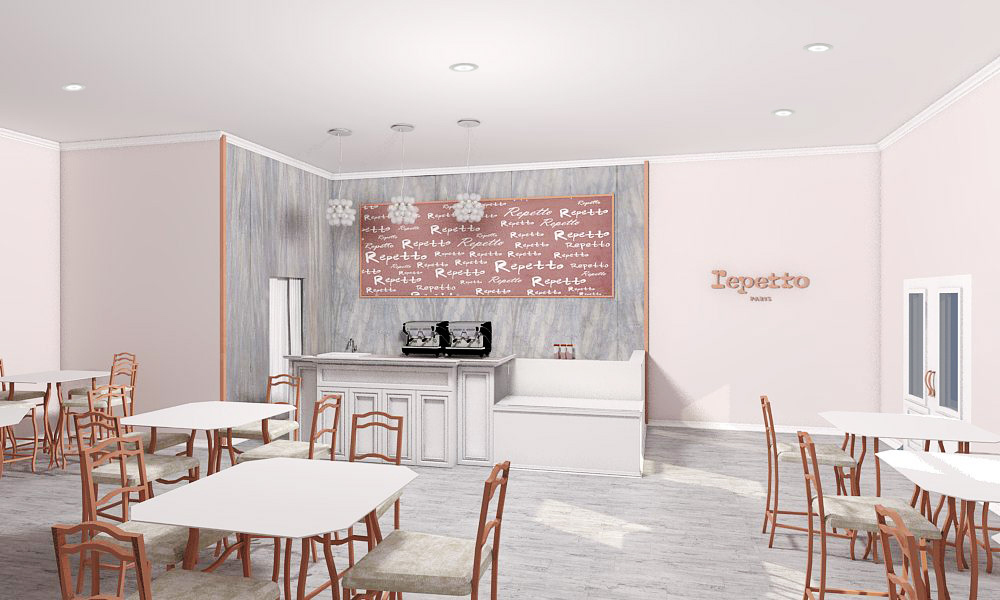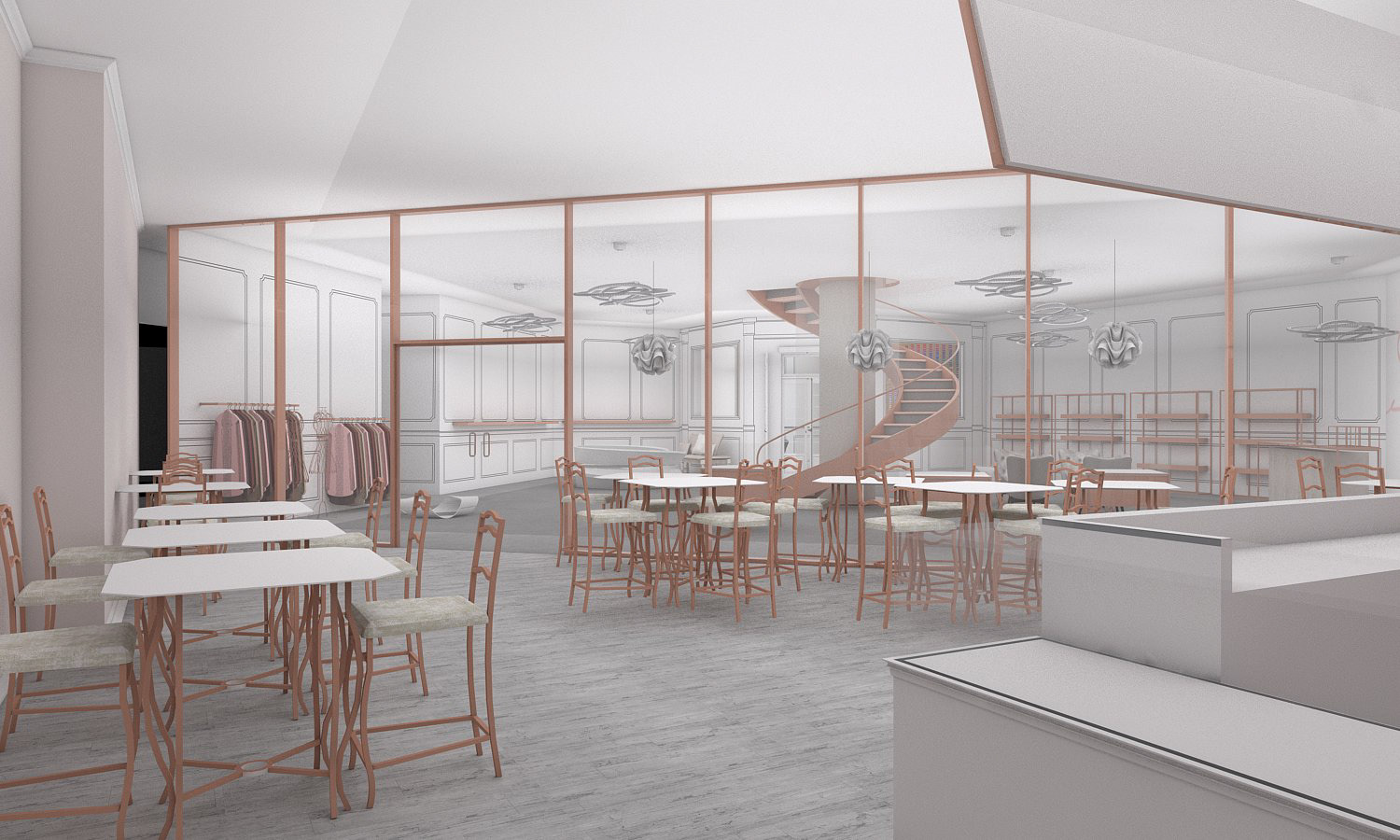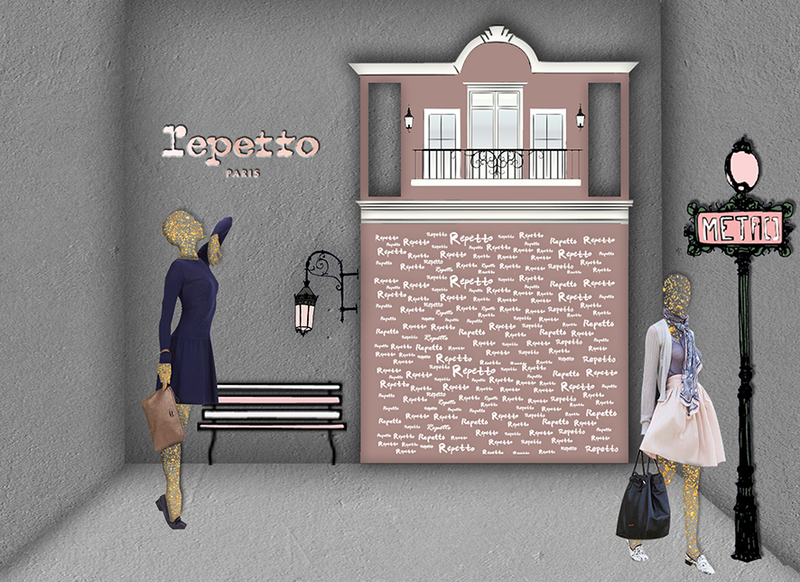 Customers can use iPads on tables to order or navigate repetto website. When they write "Repetto" to unlock the iPad, it appears on the back of the counter and the pink board in the window display.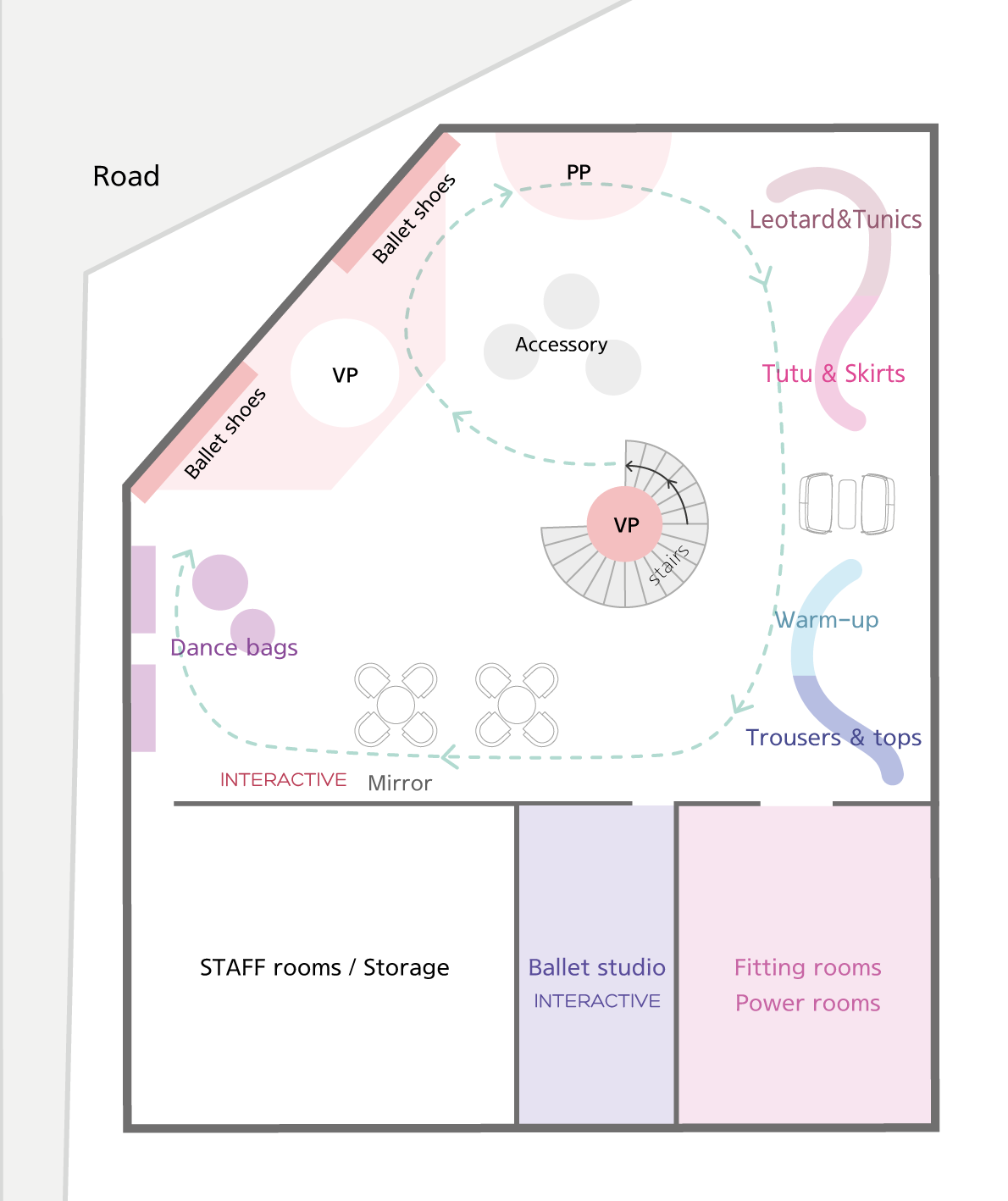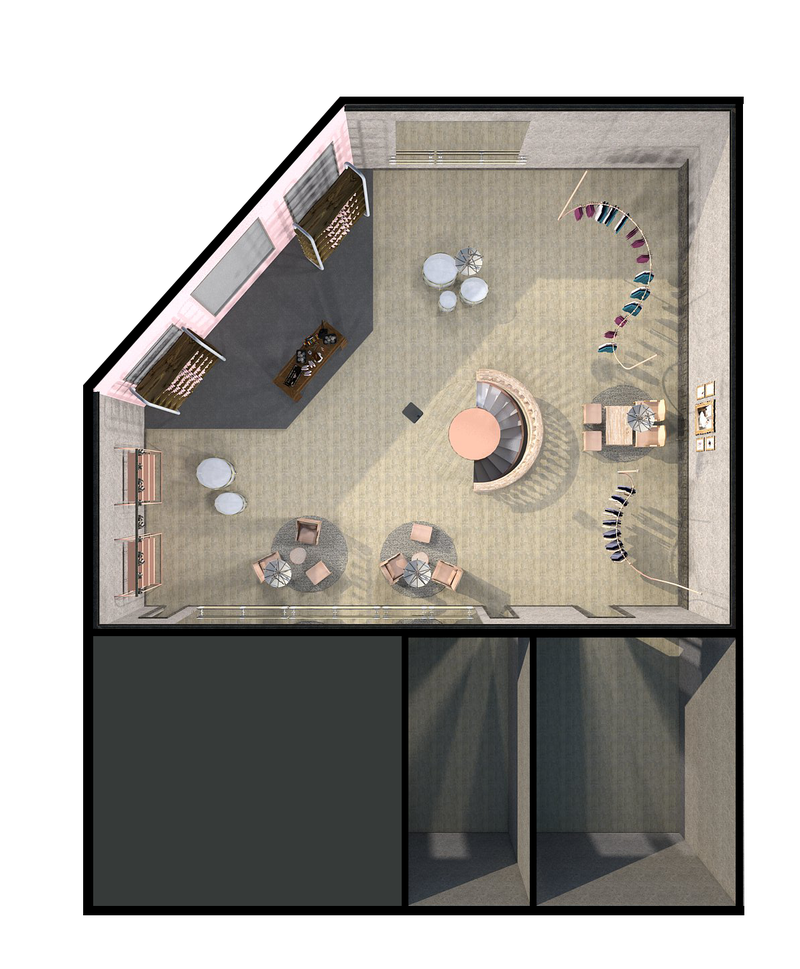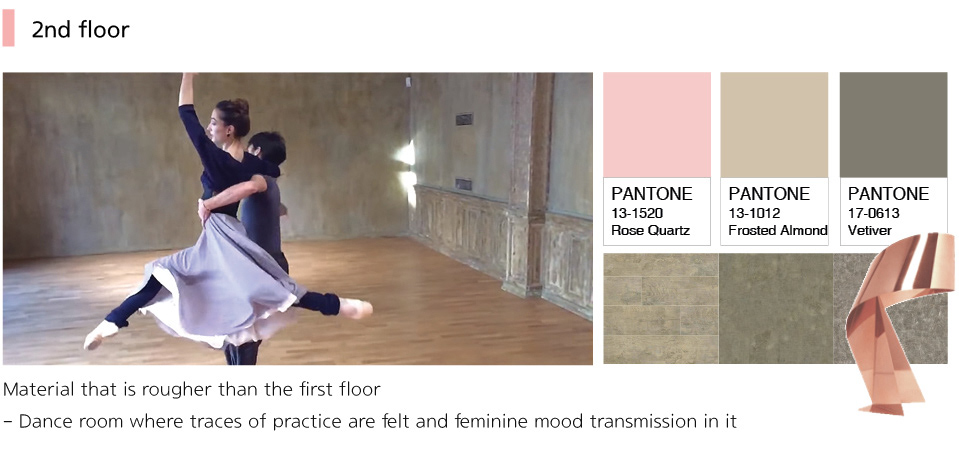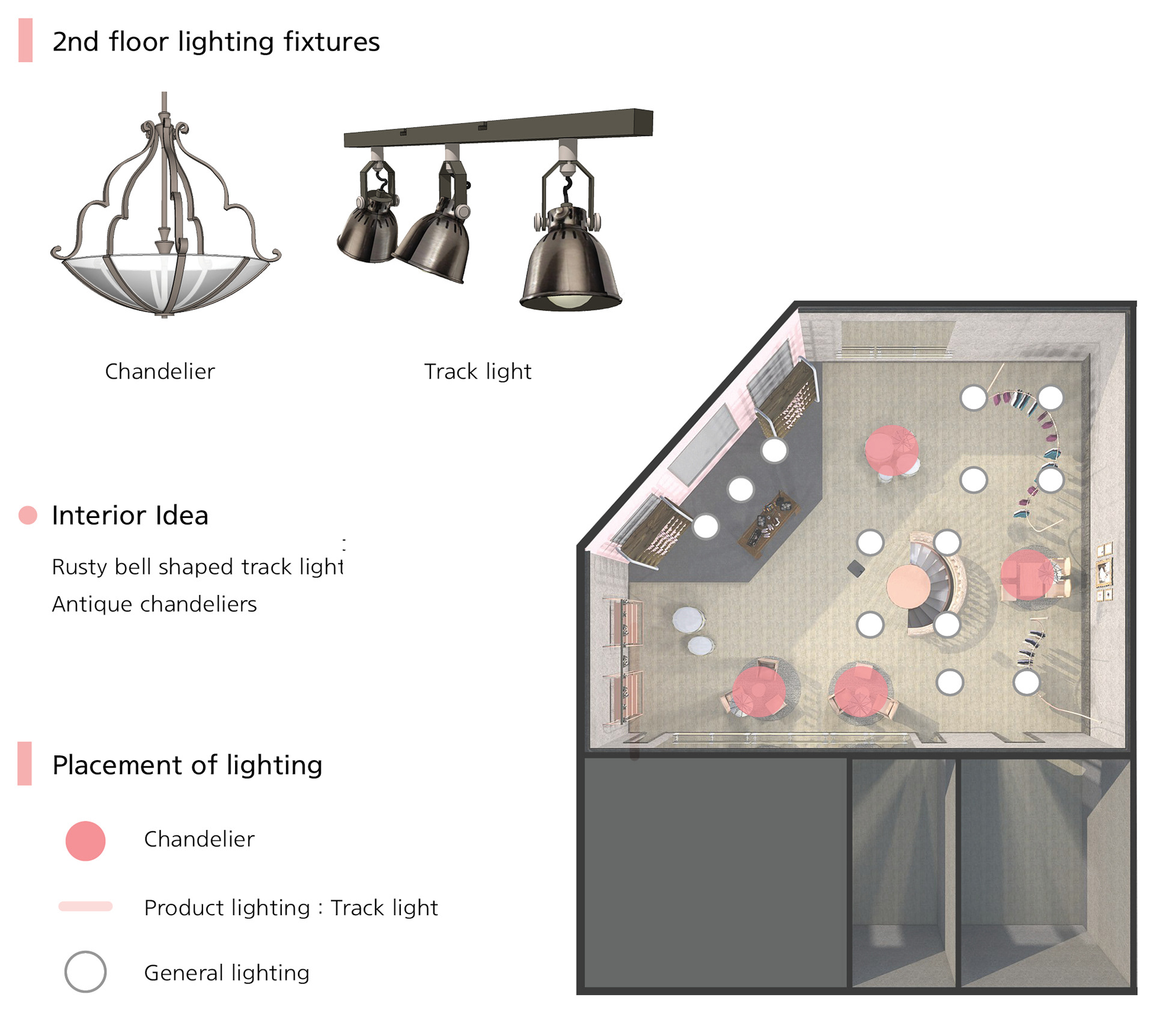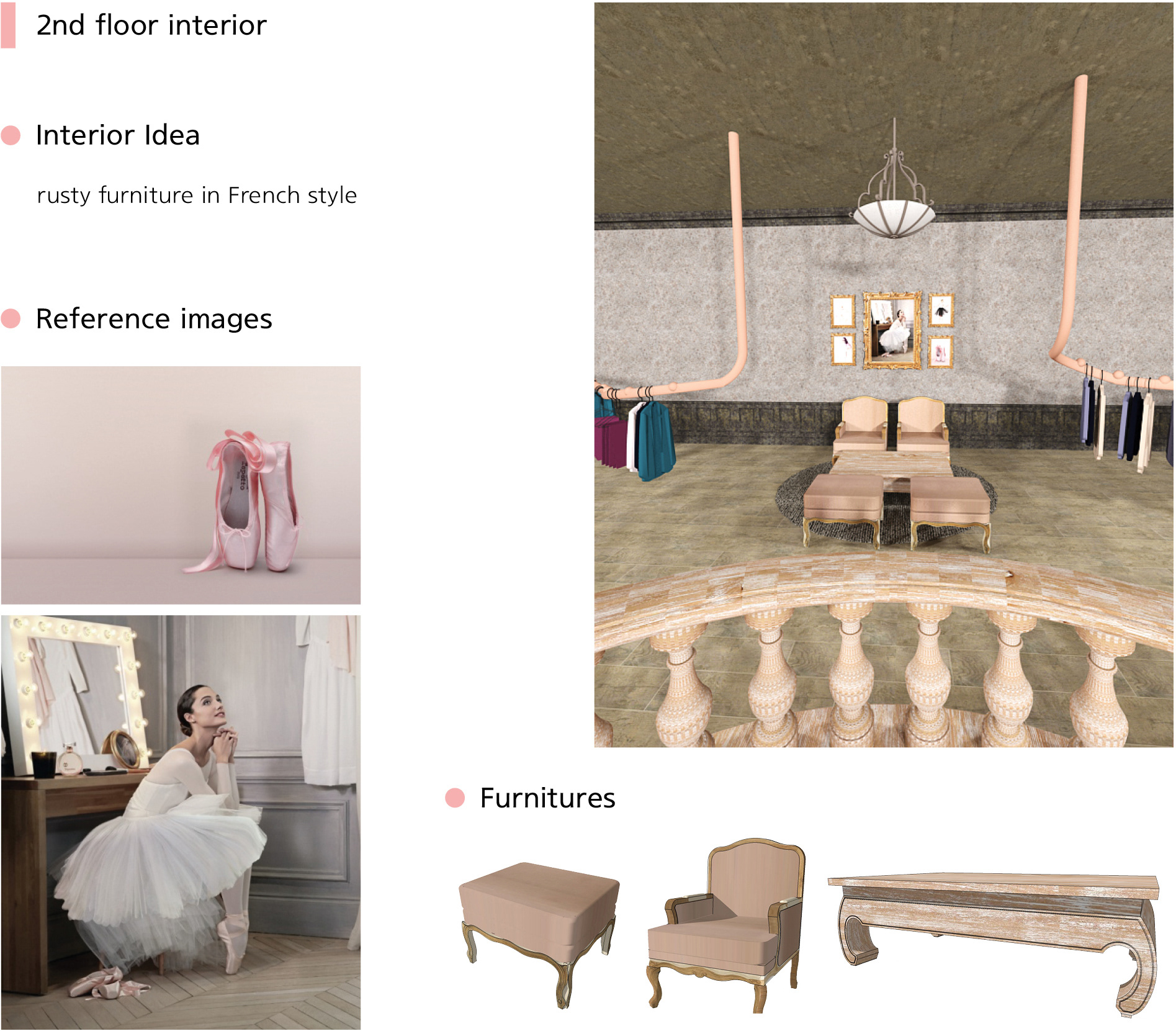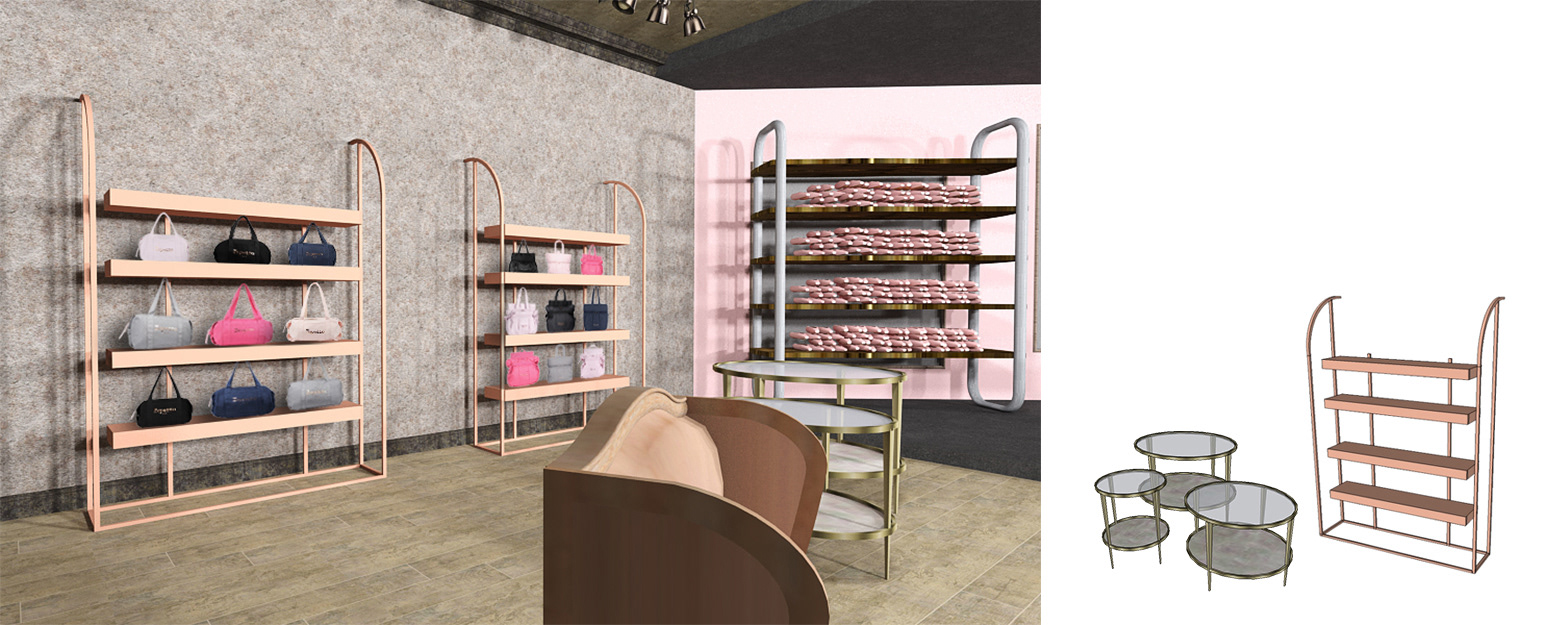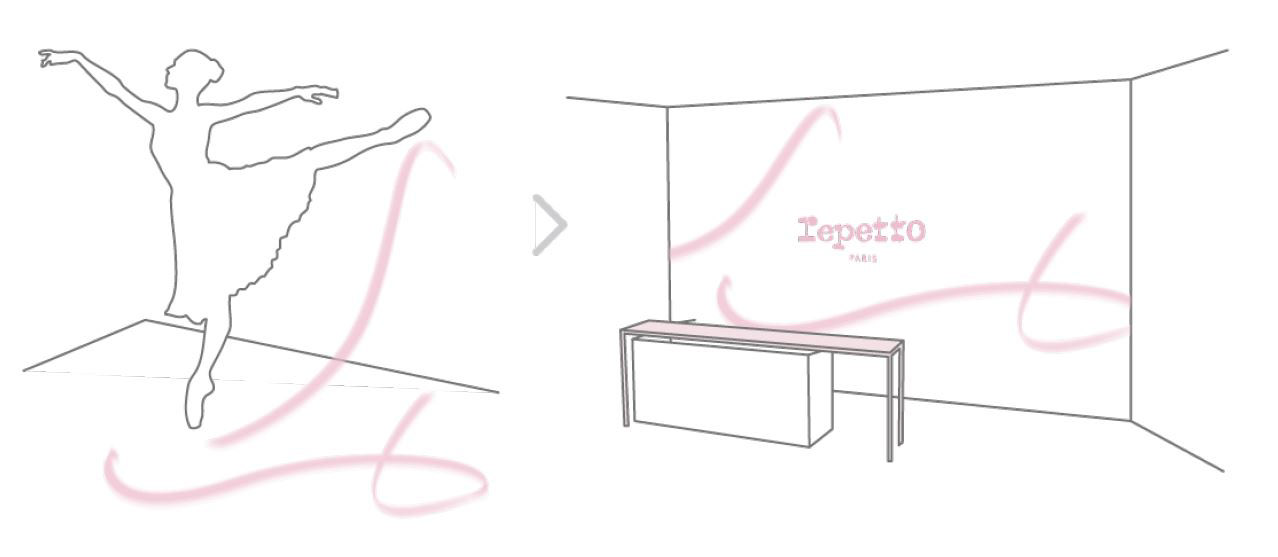 When someone practices ballet in the ballet practice room on the second floor, the movement draws lines on the back wall of the counter of the first floor.