Junaco, an L.A. based duo comprised of Shahana Jaffer and Joey LaRosa, reached out with the compelling opportunity to create an entire virtual 3D space to accompany their upcoming album Blue Room. The overarching vision for the project was to create a holistic experience which would immerse the listener into their music. 

As live performances dwindled due to COVID-19, Junaco was uniquely inspired to develop a new and transformative way to engage with their audience through a digital platform. The virtual space consists of four distinct areas which were each inspired by four songs from the album: "Blue Room", "Weight of the World", "Dazed", and "Paradise".  Each area showcases different times of day to correspond to the rhythm and mood of each song. 
Deliverables included five still images for covers, four cinematics for social media, seven videos for Spotify Canvas, an Instagram AR filter, and an interactive PC app. This virtual space was created using the game engine Unreal Engine, with all cinematics and visuals captured in real-time. 
Concept & Creative Direction

The virtual space aimed to capture a mesmerizing and tranquil place where people could rest peacefully wrapped in the golden rays of the sun, comforted by the abundant companionship of nature. The initial inspiration came from Junaco's brand image; warm, ethereal, breezy, and contemplative. The message of the song "Blue Room" reinforced the idea of staying grounded, which was further reflected in this project. The virtual escape aimed to create an oasis that was a respite from the monotony of everyday life. A key element of the spaces was invoking a reverence and gratitude to all that surrounds us. The spaces are an attainable sanctuary, reflective of personal spaces such as attics, greenhouses, conservatories, lounge areas, and anywhere that is kissed by the sun. In this way, the audience is implicitly reminded to stay grounded and find calm within the ordinary, calling back to the messaging in "Blue Room". 
This project required experience in design more than visual creation. The main idea was to reveal individual aspects of each space one by one tied into the release of each single, culminating in the reveal that all spaces were connected. The release of the album would then showcase the whole space at last. Each area was meticulously planned from the very beginning with consideration to the whole spatial experience. Architectural elements such as stairs, floor levels, wall openings, and windows were incorporated to enrich the overall spatial experience. Each area that was assigned to a single was designed to have a distinctive visual and spatial experience that differentiated the singles but maintained the same coordinated theme. When viewed together at the end, it was integral that each area looked organically connected and harmonized, not like Legos with disjointed bricks stuck together. To achieve this effect, plants, materials, and lighting played an instrumental role in uniting each area.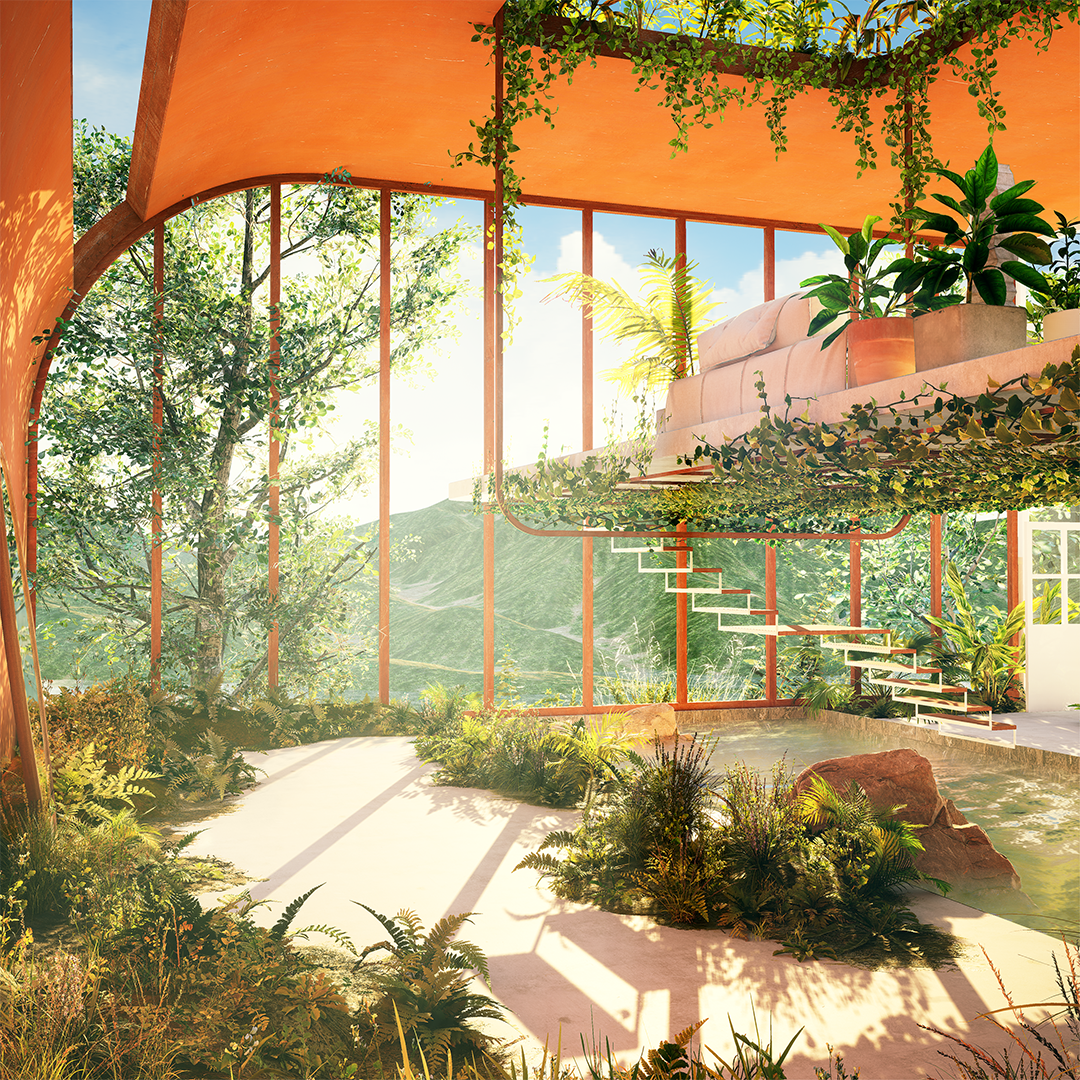 An iconic element was designed within each area to serve as a landmark of this virtual world: An unassuming mountain and floating staircase seemingly twists into the roots of the surrounding foliage for "Blue Room", a round conversation pit that encloses all visitors in a concealed embrace and is further secluded by whispers of greenery for "Weight of the World", windows that wrap around the natural world and blend the lines between interior and exterior with shadows of an invitation to the beyond for "Dazed", a cushioned balcony insulated and supported by nature and drenched in the promises of dawn for "Paradise", and a deep, blue, glistening pool that invites intimacy and a glimpse to the blurring edges of the day for the Blue Room album.

Part 01   
Blue Room (single)
Part 02   
Weight of the World (single)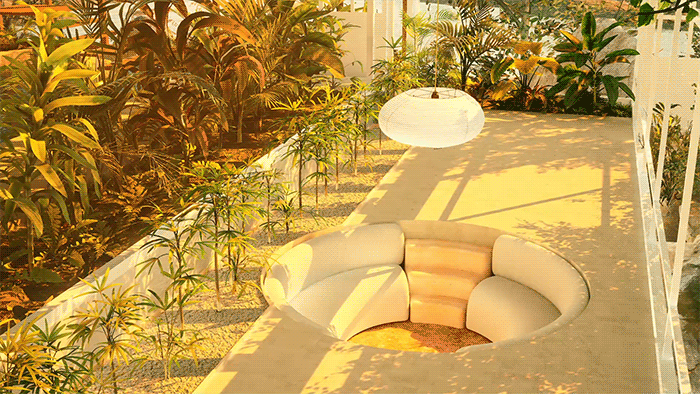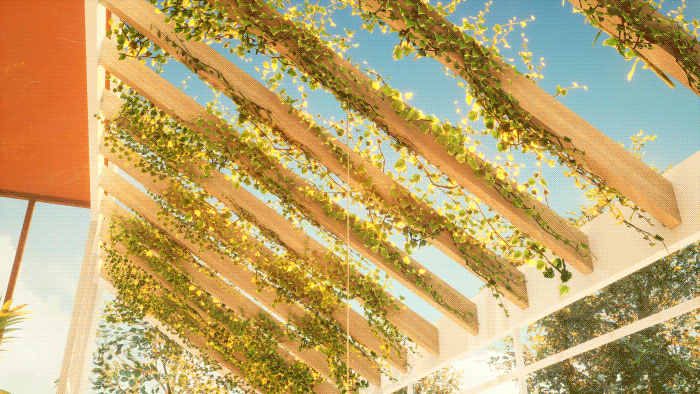 Part 04  
Paradise (single)
Part 05  
Blue Room (album)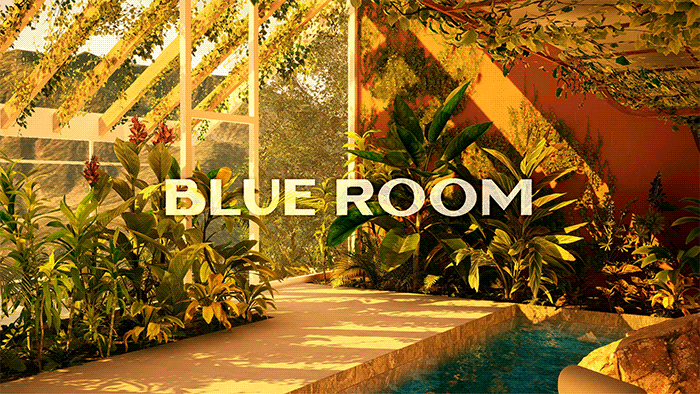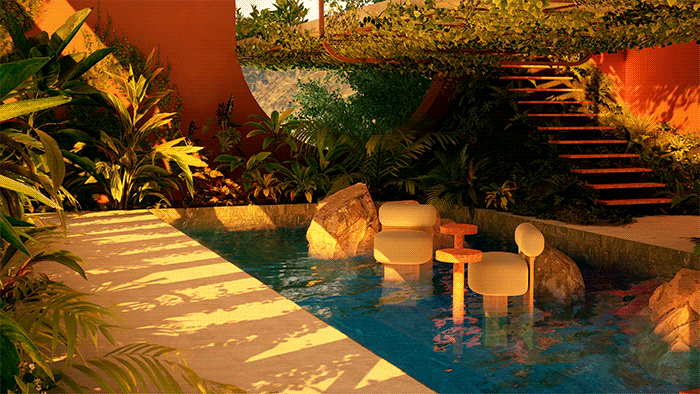 Spotify Canvas

Spotify Canvas is a feature that allows you to upload 3-8 second looping videos for each of your tracks on Spotify.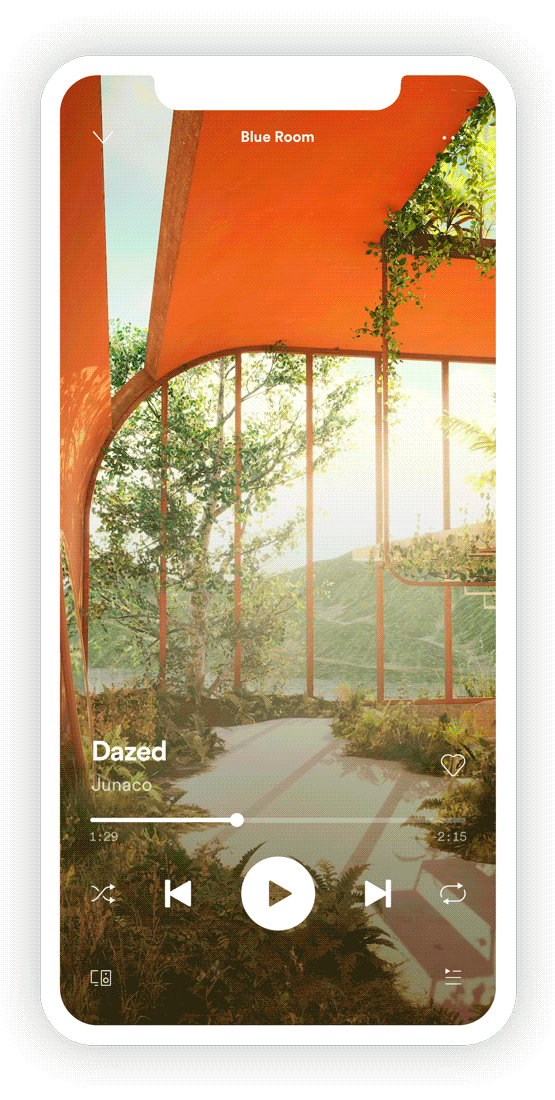 Interactive Experience
To provide users an opportunity to immerse themselves in Junaco's ethereally attainable world, two types of interactive experience were developed; a Spark AR Instagram filter which presented a fluid backdrop for the user and served as a tease to the larger world, and a PC application which provided a vibrant and all-encompassing experience, allowing the user to fully engage with the world.
Instagram Filter "junaco world"
The Instagram
filter

"junaco world"

was created using Spark AR. Considering the limitations of the file size (4MB), 360-degree renders with image compression techniques were used to showcase the virtual space via mobile. Buttons at the top of the screen provided users the option to navigate between backdrops so that they could seamlessly discover new areas. Based on the user's selection, the Junaco song that corresponded to the selected area would be played, thereby creating a transcendent audio-visual experience.
Interactive PC App (available for Mac, Windows PC)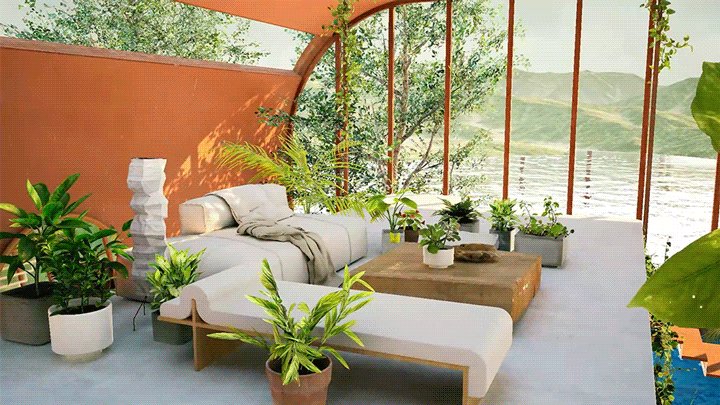 For those looking to lose themselves in Junaco's world, an interactive PC app was created. Through this app, users could fully engage with the world, and gain a deeper appreciation of the design imagery and artistic details. The PC app was developed using Unreal Engine, with all interactions created using blueprints. Performance optimization was key and included setting LODs, light complexity, and custom scalability.